Regular price
Sale price
$59.00 USD
Unit price
per
Sale
Sold out
GERI G. Essential Daily Greens is certified organic by QAI.

amino acids

vitamins & minerals

plant collagen

polyphenols
Benefits the body to help restore and rejuvenate the body daily.
It supports the body as it tries to defend against environmental aggressors and poor diet.  Daily consumption will help with energy and a sense of balance 
The formula is MADE WITH AUTHENTIC Kamut® first generation of wheatgrass. The most superior and potent wheatgrass grown.
Start your day first with a glass of essential daily greens and you will feel the natural effects of whole greens!
* Organic Kamut® Wheatgrass
* Organic Young Barley Grass-non GMO (young cut)
* Organic Spirulina
* Organic Chlorella
*Organic Meyer Lemon
* Organic Stevia
* Digestive Enzymes
How To Incorporate the 'essentials' into your day.
1. Start your day with essential daily greens on an empty stomach.  Wait 15 mins minimum before eating or drinking after the greens.
2. Mid Day lunch, snack or maybe your dinner.  Enjoy essential daily meal replacement with a non dairy milk is preferred.  Add essential muscle renew  for added protein absorption. **Add more liquid as desired for consistency preference.
3. Before exercise or anytime of the day a dd essential muscle renew  to any drink or food to maximum muscle tissue health and lean muscle development with or without exercise. Natural fiber is added to help create a sense of fullness as well. myHMB®, vitamin D, calcium, Prohydralase®, and chronium picolinate all compliment each other to encourage healthier skeletal muscle development and help to reduce sugar cravings.  Geri recommends an easy to digest pea protein milk
Share
View full details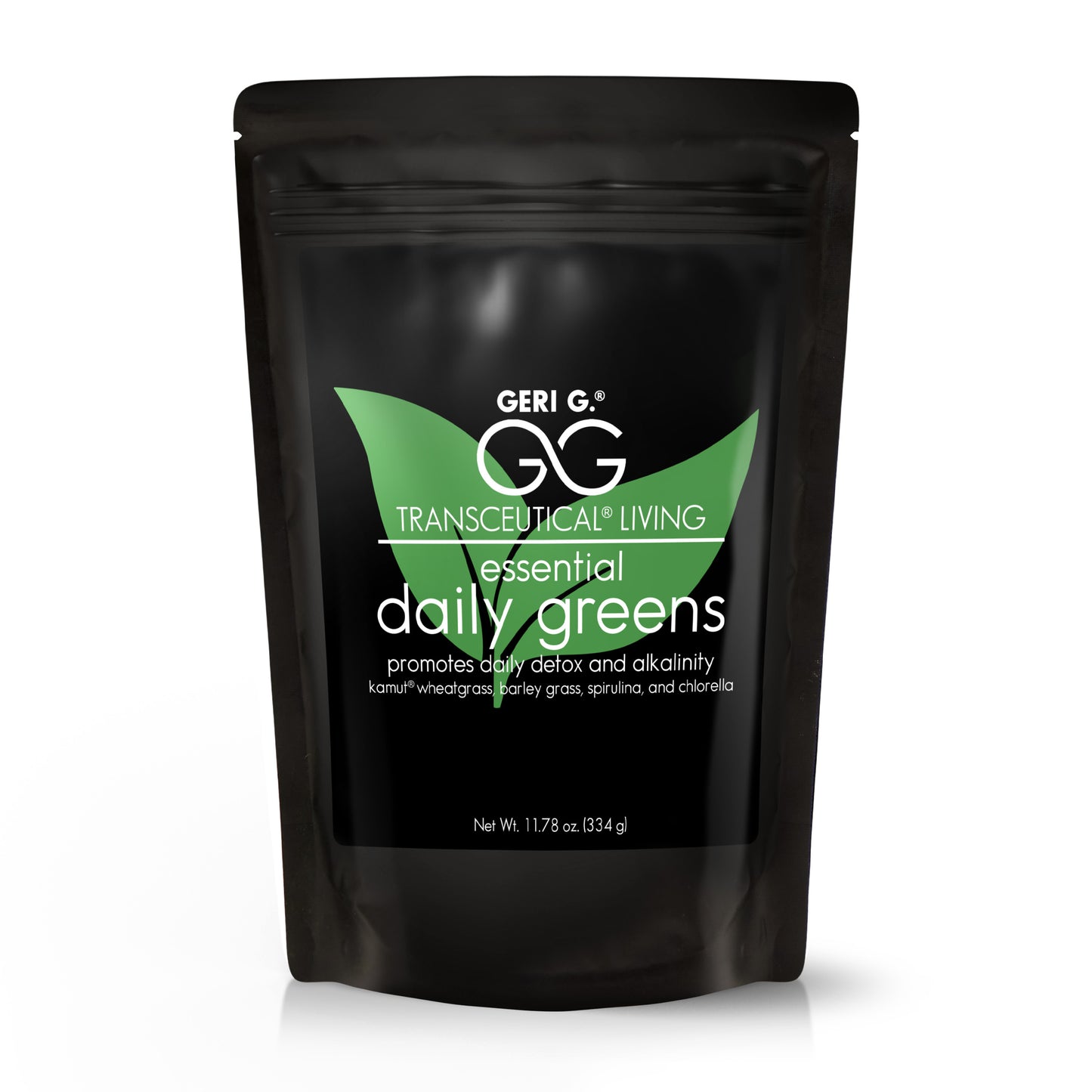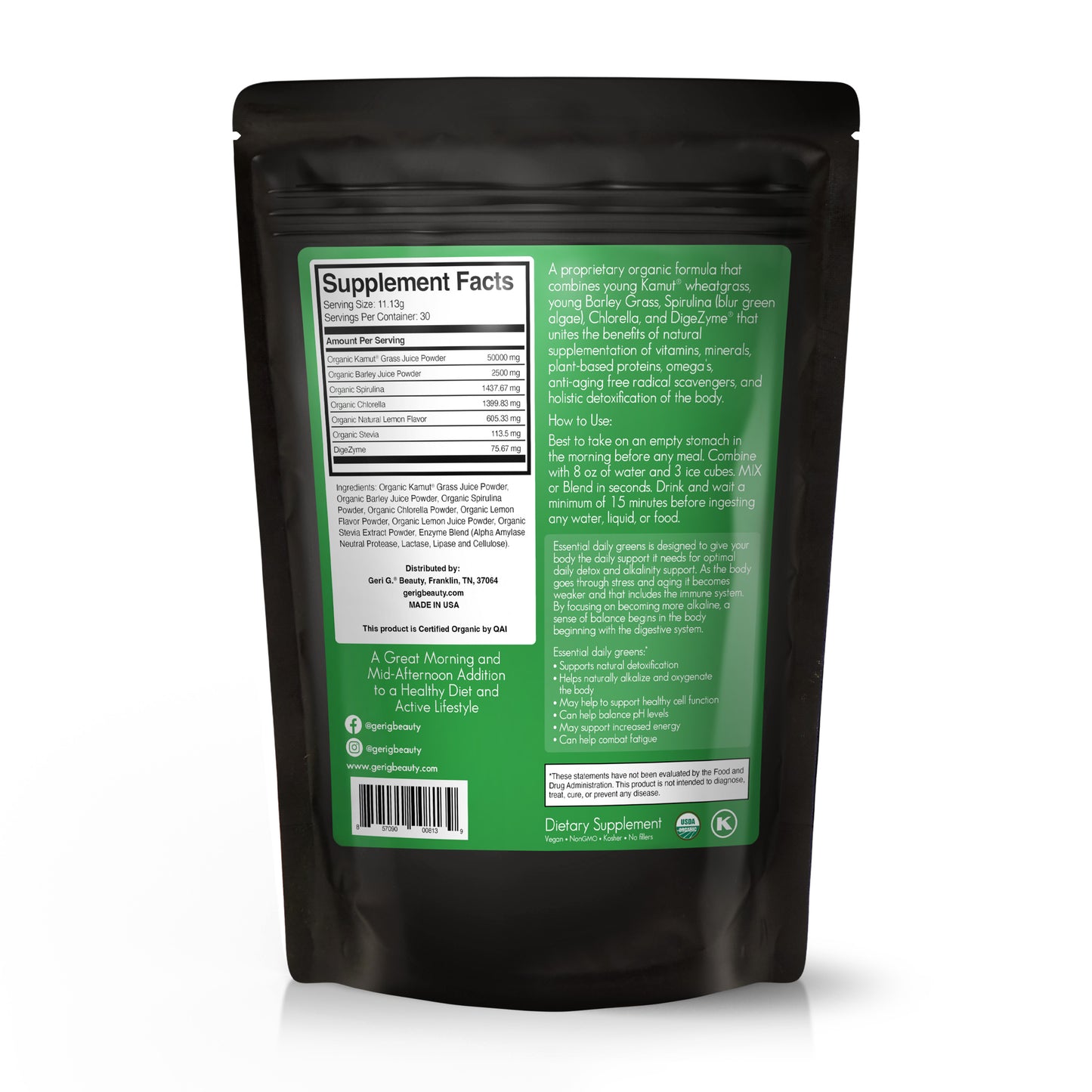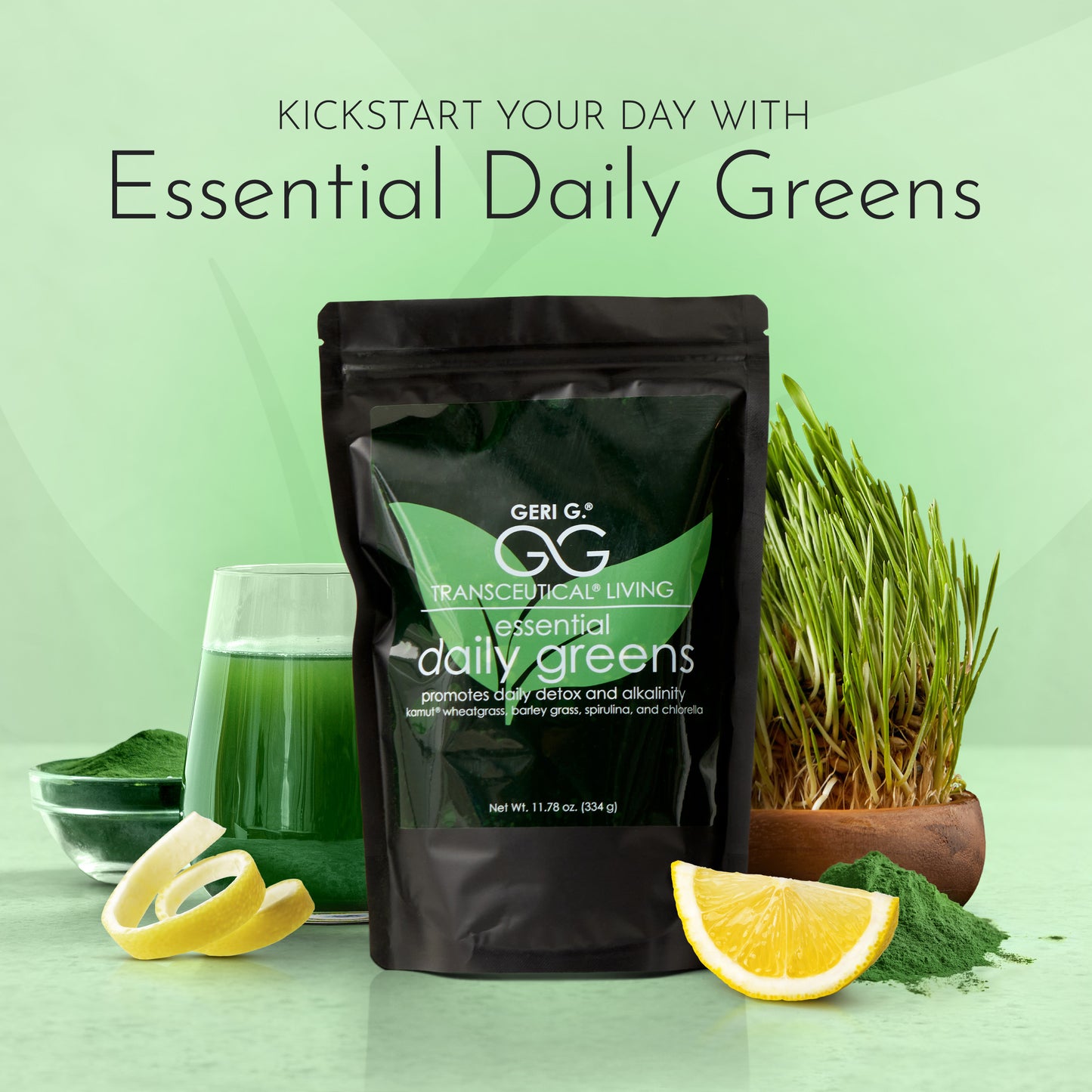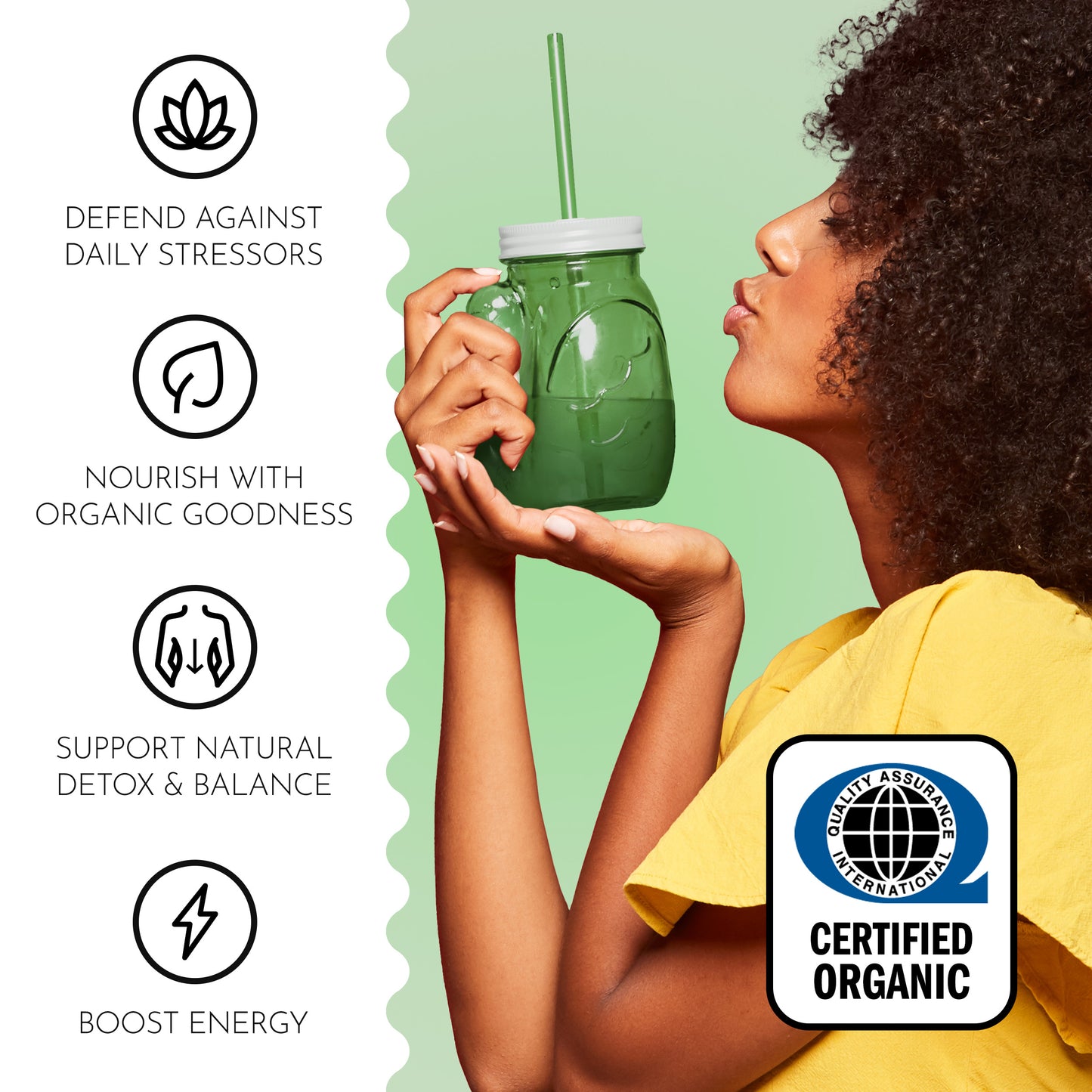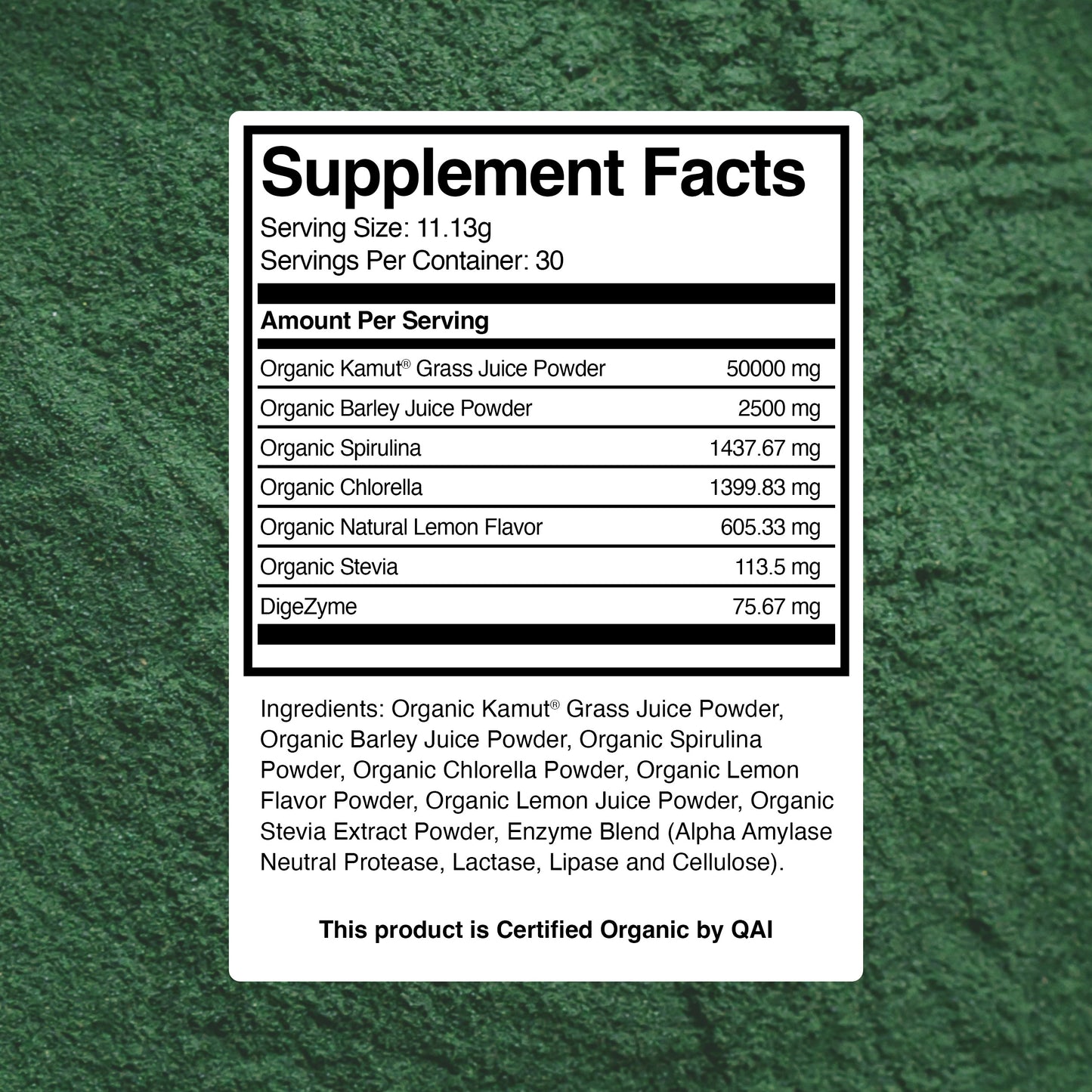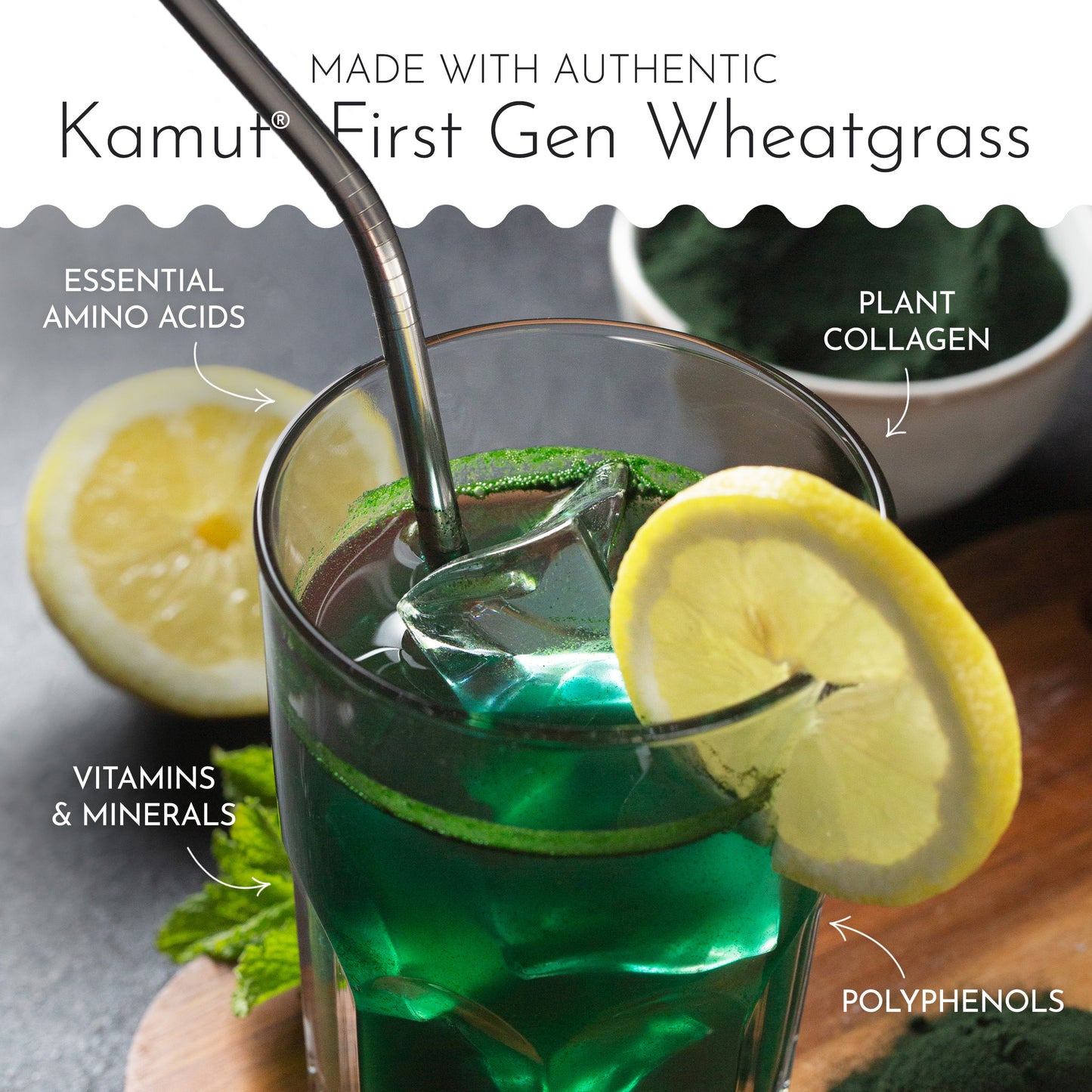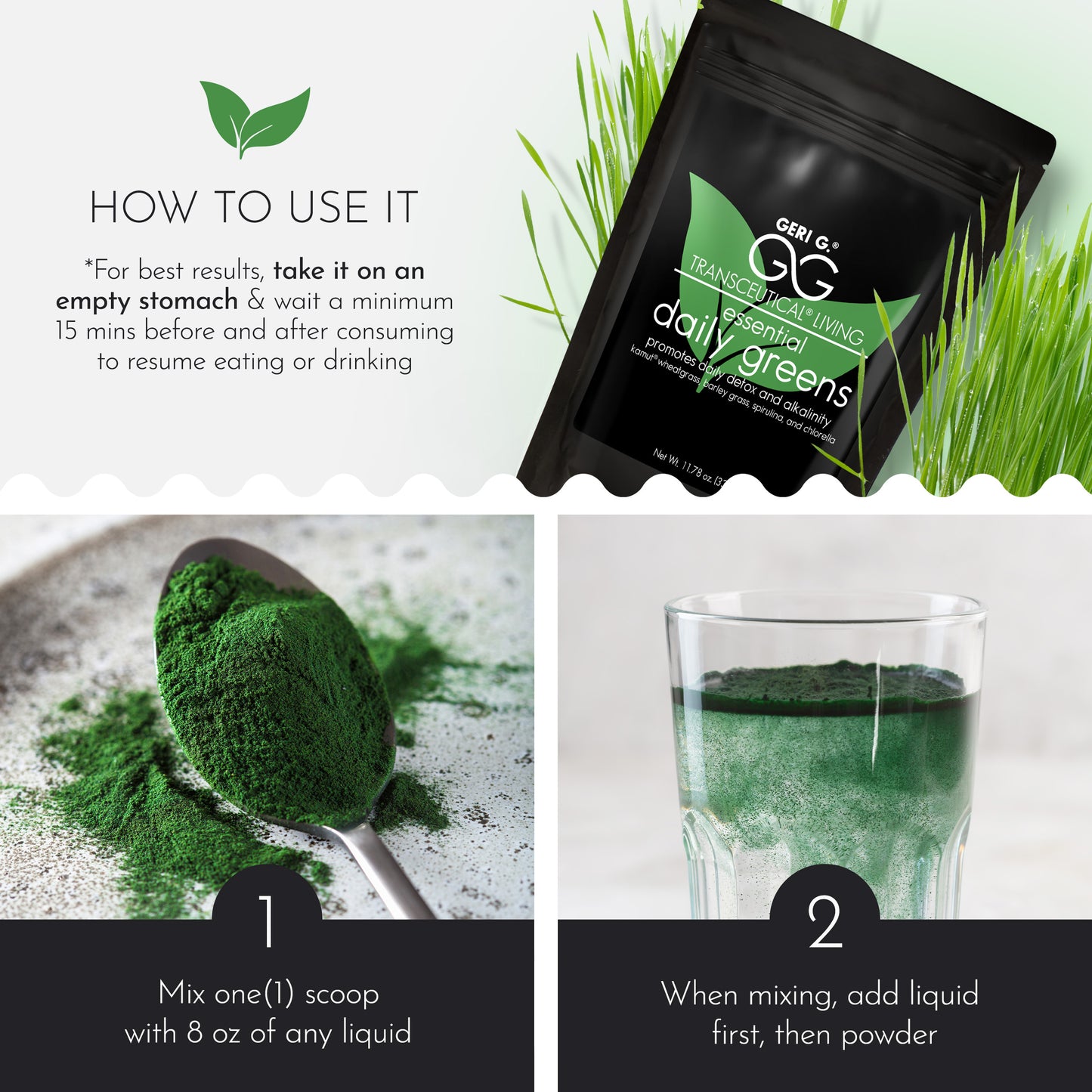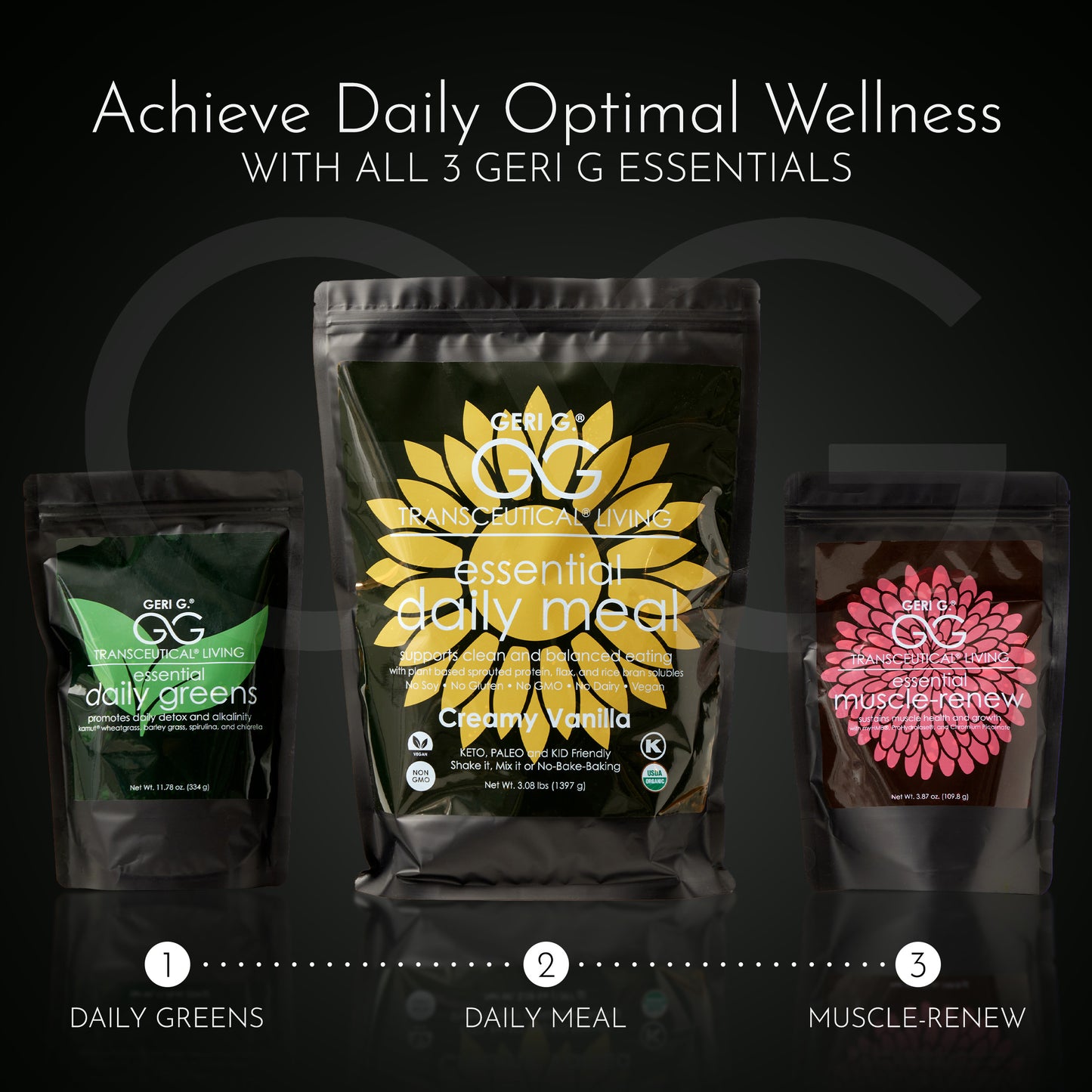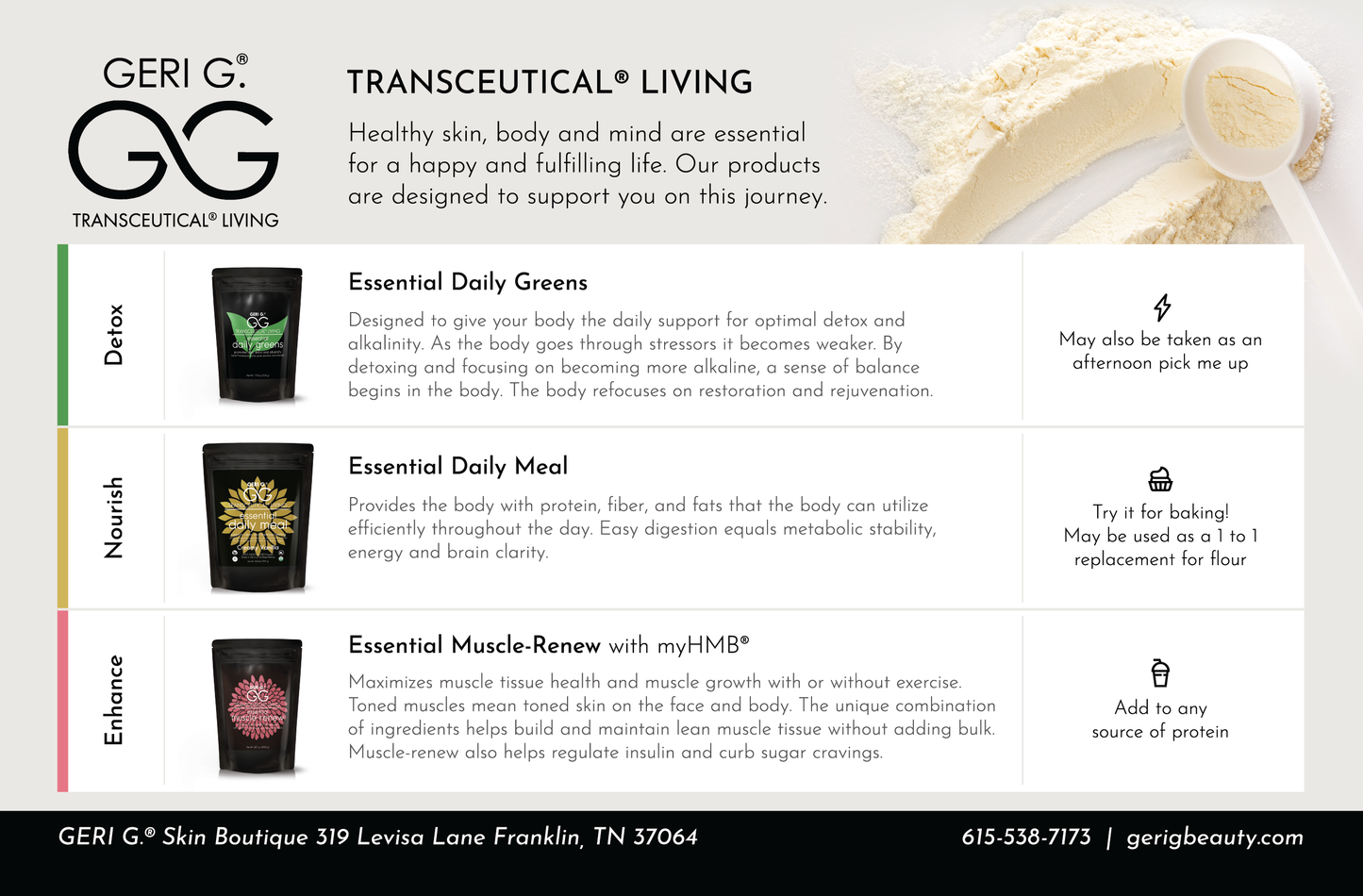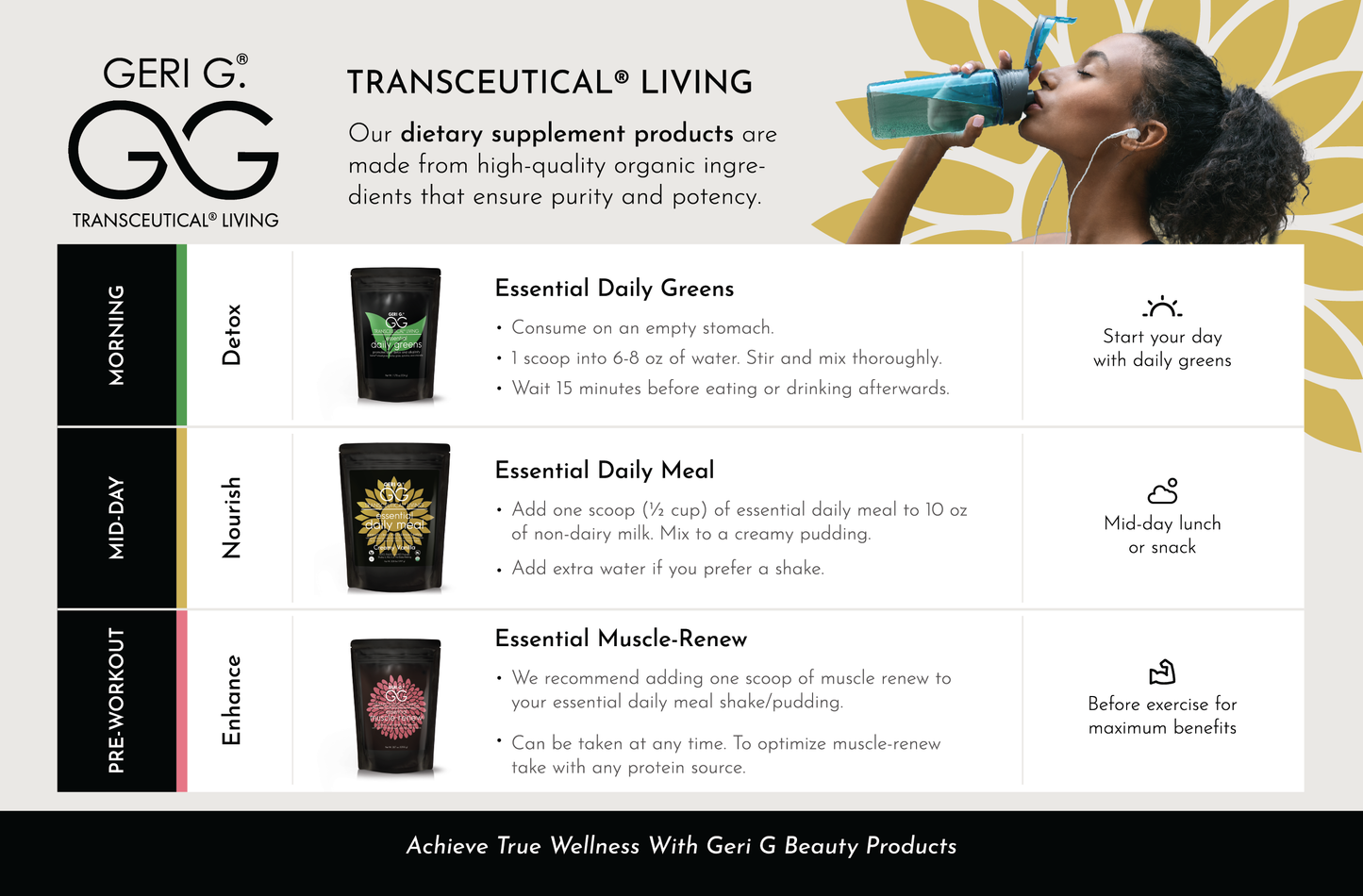 Collapsible content
Botanical Heros

Spirulina

Helps to naturally supply the body with easy digestable nutrients for supporting all organs and the blood.

Chlorella

Completely natural supergreen that oxygenates our red blood cells

Kamut Wheatgrass

Supergreens that stabilise the skin barrier, helps protect you from the sun & can help heal skin blemishes

Barley

Rich in plant based protein, fiber, vitamins and minerals. It contains natural forms of iron, manganese, selenium, folate.
Buy with Prime

"Buy with Prime" is a program that allows you to buy products on gerigbeauty.com while using your Amazon Prime membership to access free two-day shipping. You can learn more by clicking here.
GERI G TRIO was just what I needed
Following the GERI G. plan everyday gave me guidance as to wha to take to make sure I was getting all the essential vitamins, minerals, proteins, fats and support nutrients to keep my insulin levels normal and energy balanced.
I can always tell I difference in how I feel if I don't stay on track.
1. Greens First to detox
2.Muscle Renew with protein for reduce insulin levels,muscle aches and protein digestion
3. Daily Meal at lunchtime for that one balanced meal to keep the munchies at bay.
I swear by it!!
Super green power!
I have been drinking Geri's greens since she developed them about about 7 or 8 years ago. They have always energized me and made me feel ready for the day. I also love that they are great tasting as well, you never have to try and choke them down like some green powders. Geri is so committed to wellness and helping others to be well and I love how she is always improving her products. I am lucky that she has been in my life for over 20 years!
Works from the inside out
Geri's blend of greens not only tastes good, it also works magic on my skin! Daily use keeps my skin at its best and balances my whole system.
Eat Your Greens
The Essential Daily Greens tastes very good, dissolves easily in water, and is so convenient when you just didn't have time to prepare that salad. I love it.
Daily Greens
Actually have a great taste! Besides tasting good, super healthy! Nice pick me up drink in the afternoon! I'm impressed!!