Regular price
$64.00 USD
Sale price
$64.00 USD
Unit price
per
Sale
Sold out

skin reboot®️All-in-One Moisturizer, Primer, Cosmetic Enhancer, and Night Cream is a patented water-resistant,  translucent moisturizer, that effortlessly makes your beauty routine simpler, faster and healthier.

Whether you use it solo as a moisturizer or blend it with your makeup, you can expect nutrients to penetrate your skin to keep it soft, smooth, and supple with a bright glow.
skin reboot® blends seamlessly with your skin and any lotion or cosmetic of you choice and it doesn't impact the original color of the the product.When mixed with your everyday makeup products, it allows each product to glide smoothly on the skin and ensures the makeup is water-resistant and long lasting.
When used solo during the daytime, skin reboot® moisturizes and creates a perfect canvas for applying makeup. At night, apply to your face and enjoy the soothing sensation of a luxurious night cream with anti aging ingredients.
Nowhere else will you find a product that moisturizes, primes/preps your skin, and custom blends your makeup instantly, in addition to being the perfect night creme. It truly is a multi-use powerhouse!
✔︎ Sustainably Sourced
✔︎ Eco-Friendly Packaging, Less Waste, More Product
✔︎ Made in the USA
*Skin Reboot U.S. Patent # 9,750,681
Share
View full details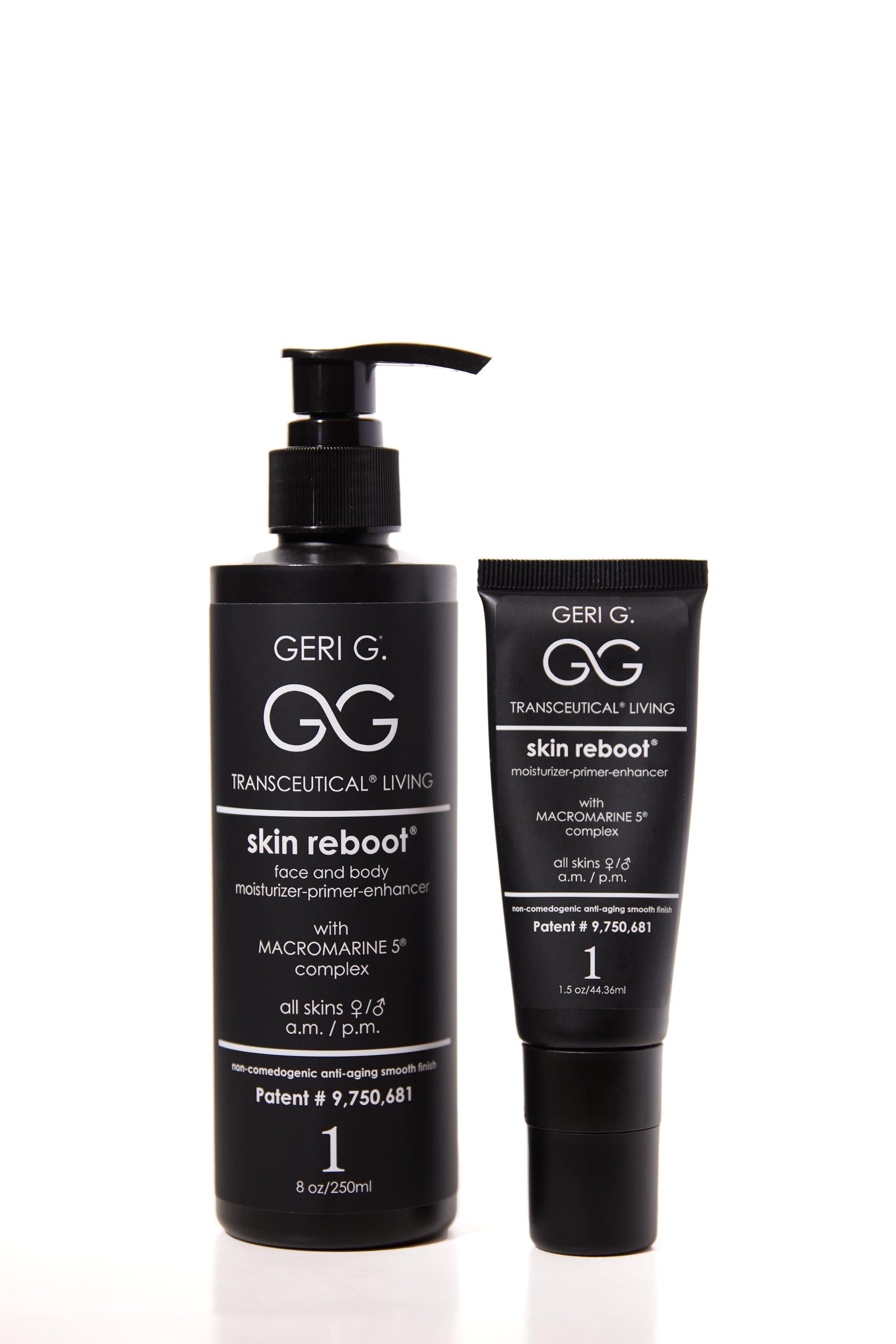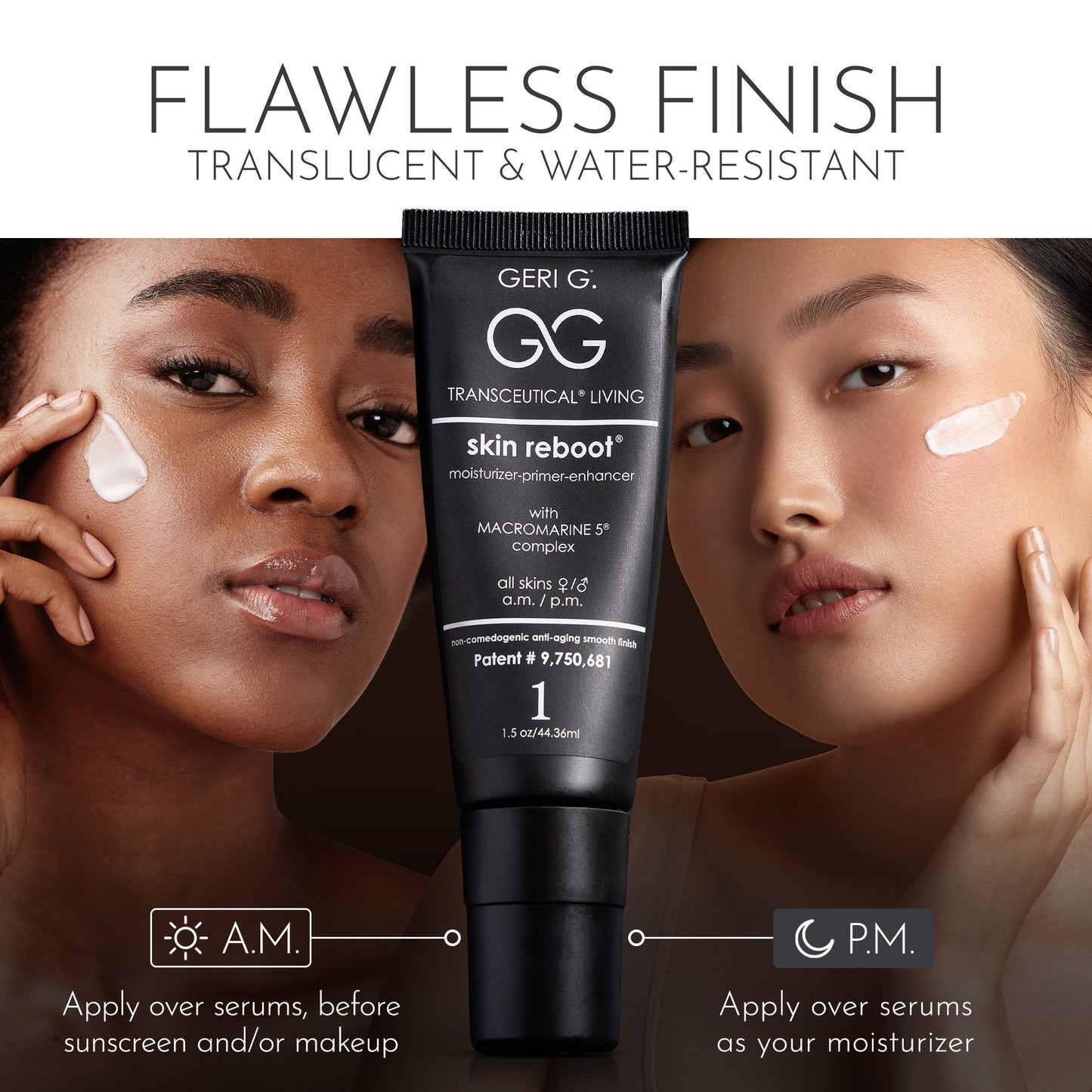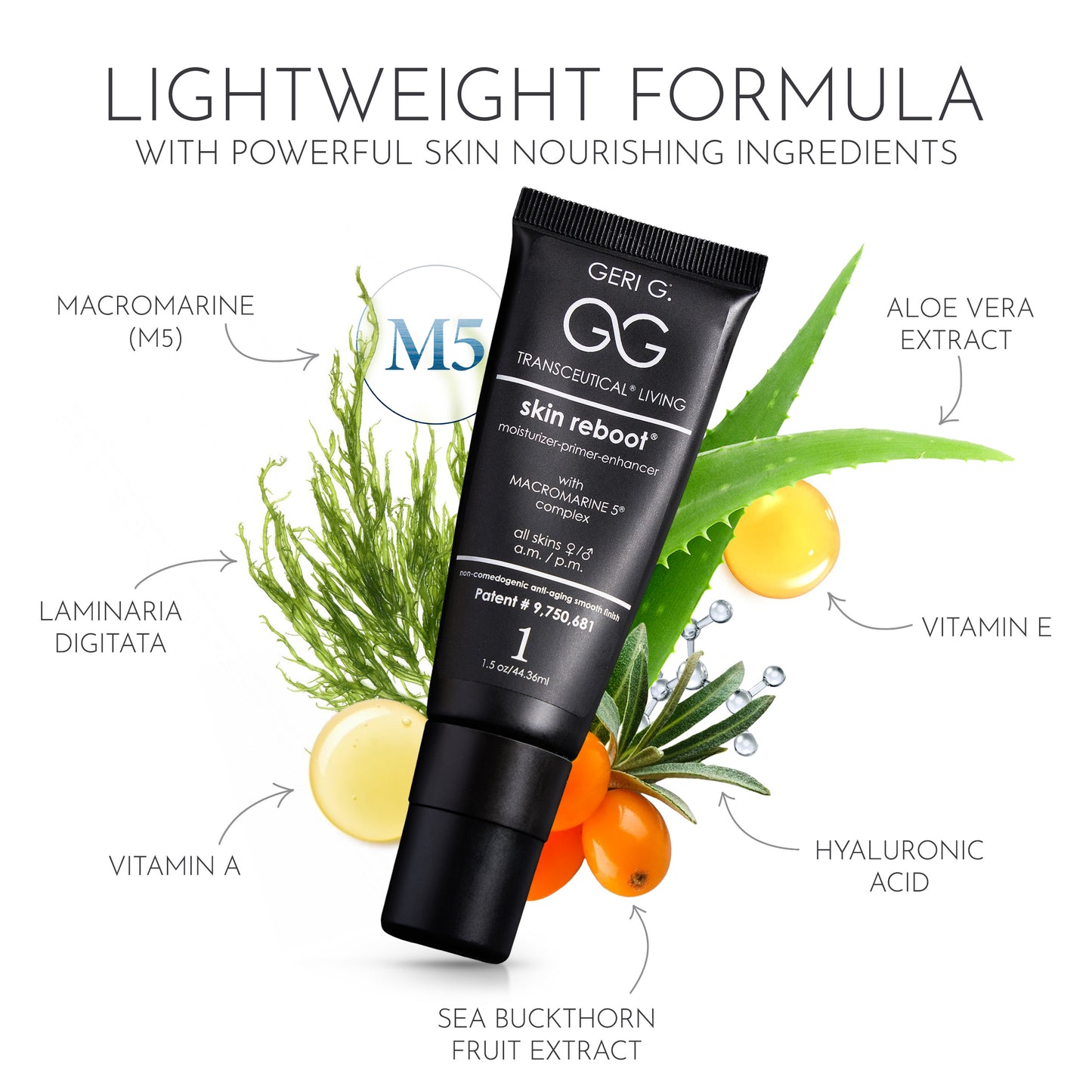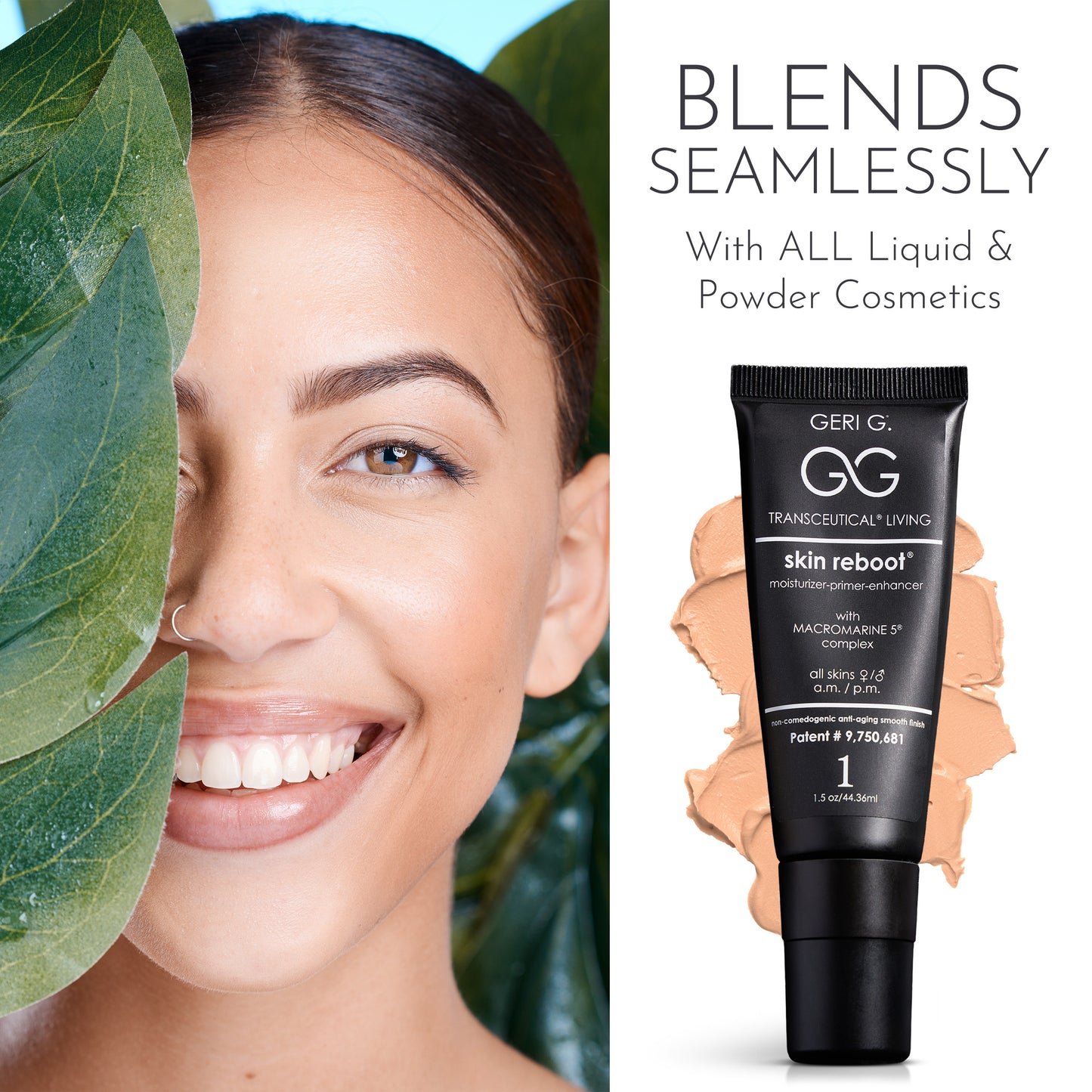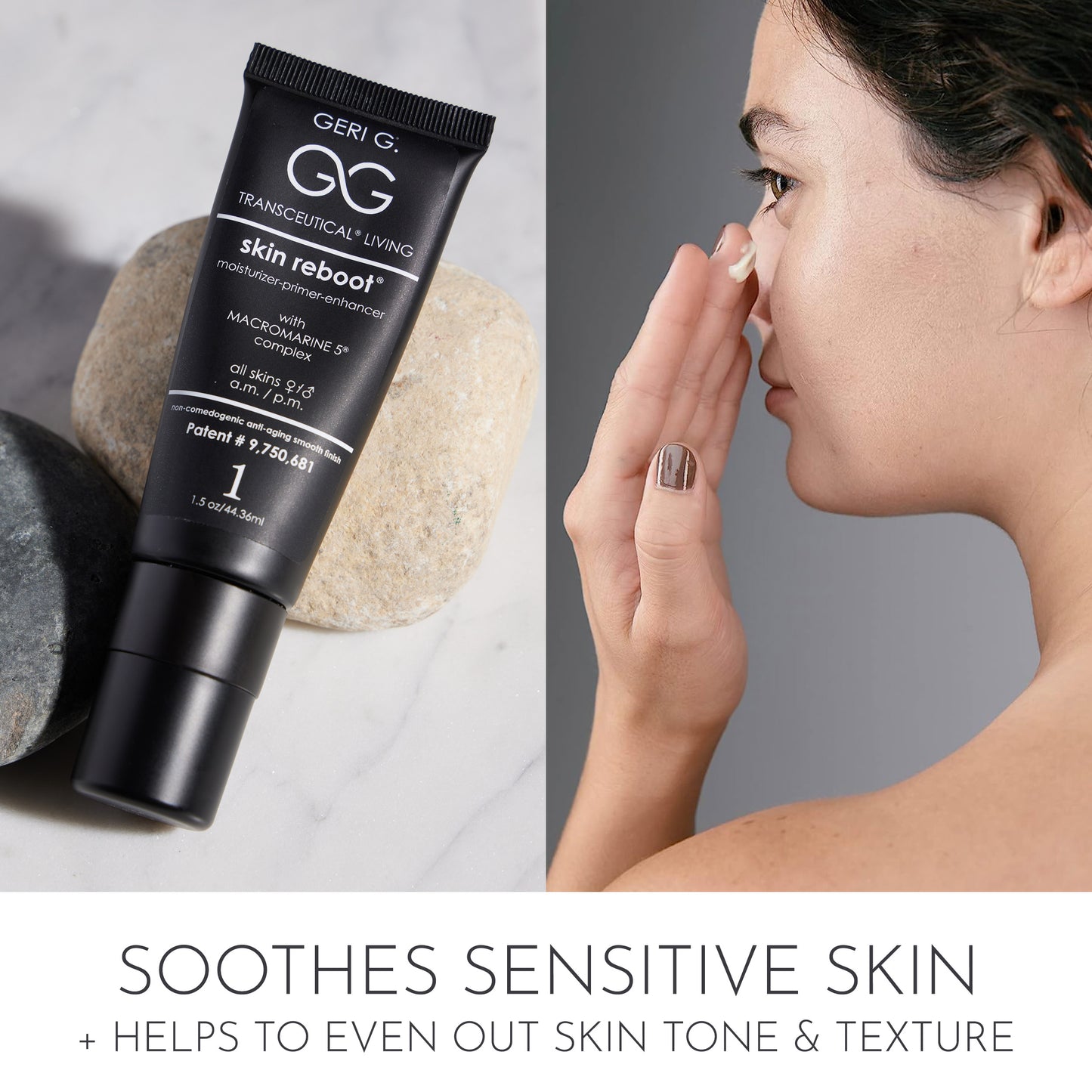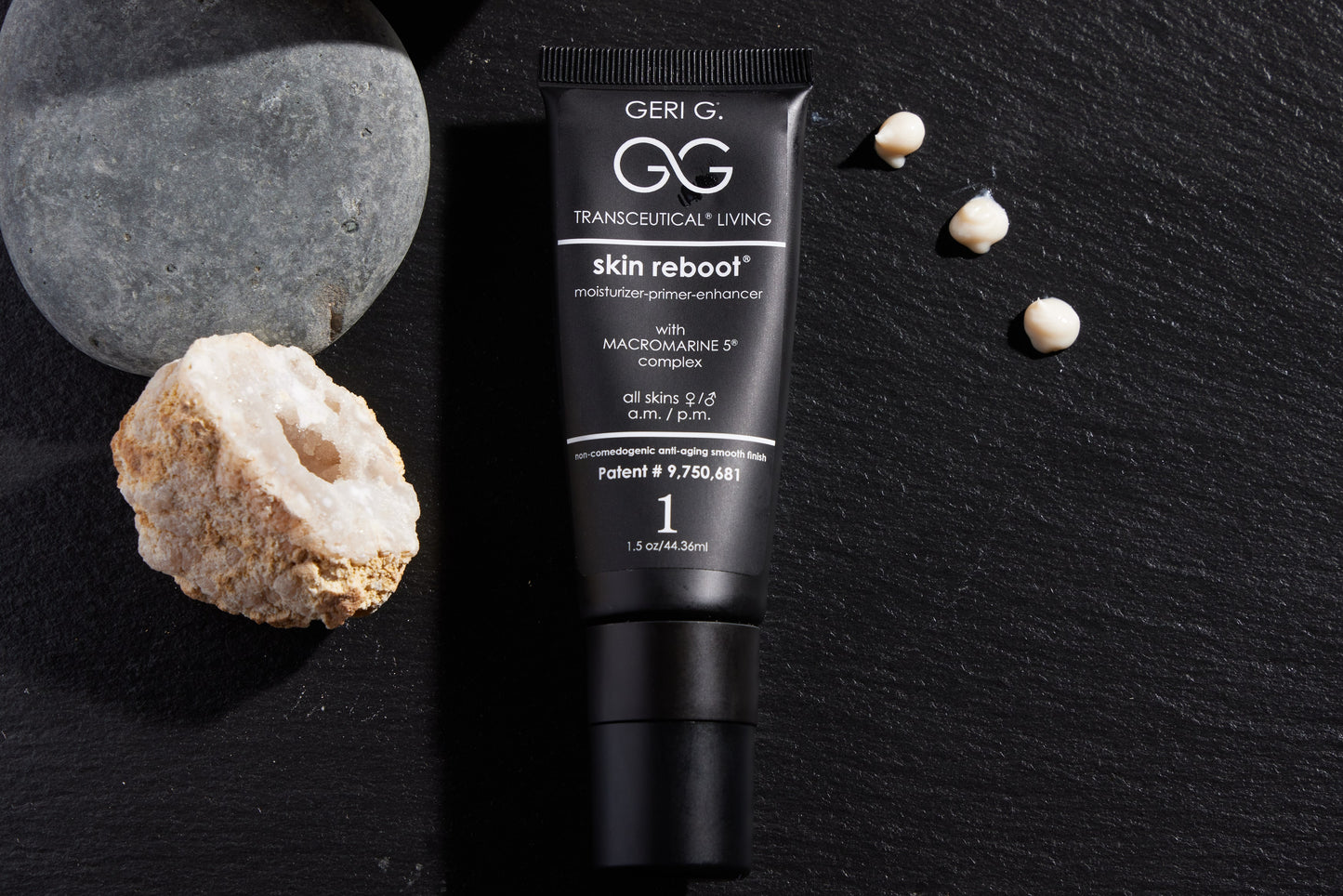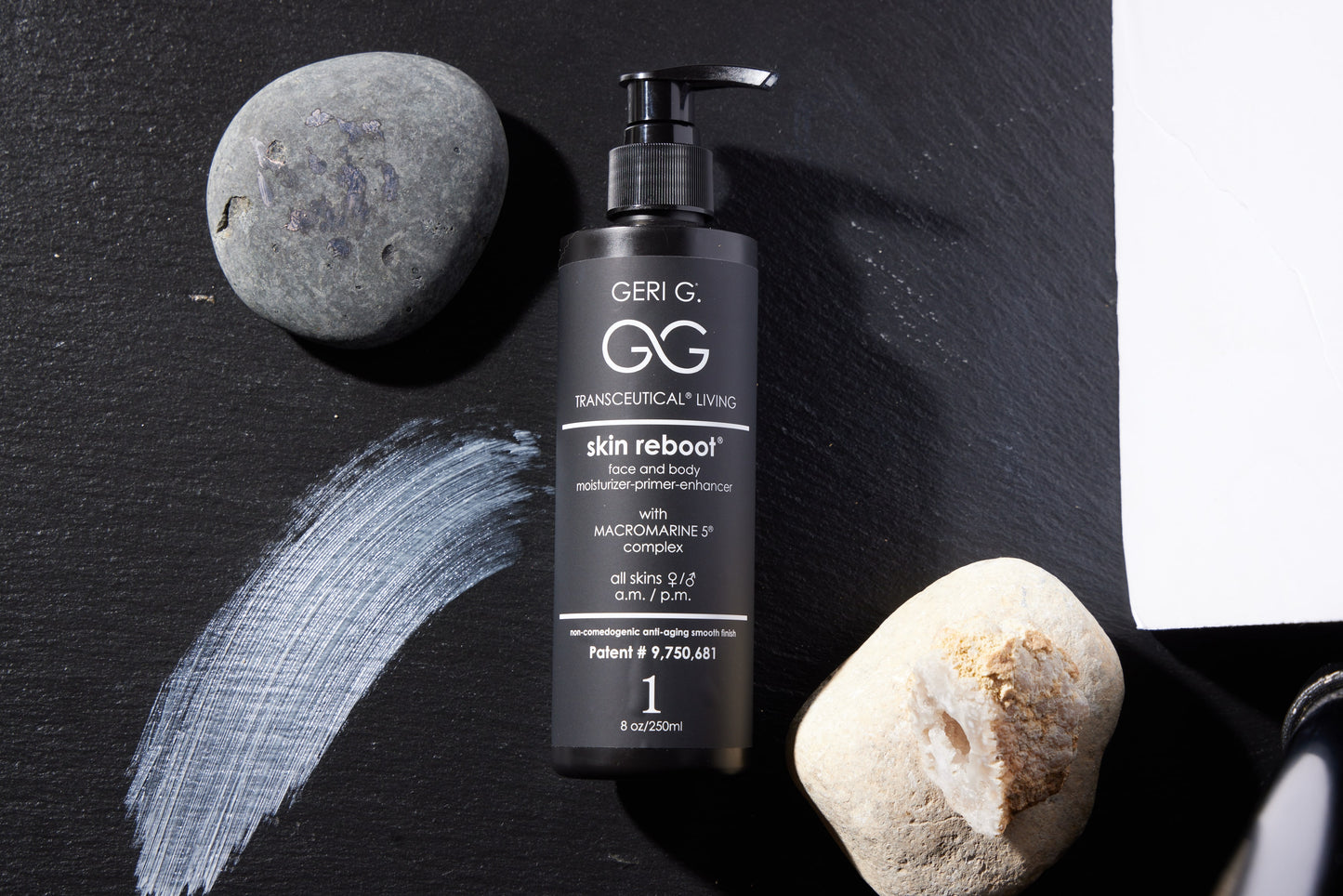 Collapsible content
Botanical Heros

Vitamin E

Natural moisturizer, free radical scavenger (antioxidant), skin smoother.

Vitamin A

Natural free radical scavenger, skin rejuvenator, helps to soften fine lines and wrinkles

Hyaluronic Acid

Water–binding ingredient for the skin that helps fill in spaces between collagen and elastin fibers, and helps to provide long lasting hydration

Macromarine

Our super complex of sea-based extracts that compensate for the skins nutrients lost throughout the day

Aloe Vera Extract

Calms, soothes, and hydrates the skin

Sea Buckthorne Fruit Extract

Healing extract that protects the skin from free radical damage and naturally contains anti-agers. Great for those suffering from dry skin and iritations.

Laminaria Digitata Extract

Algae extract that draws in moisture to help the skin plump up and promoting a smoothing out of fine lines, contains Vitamin E
Skincare bliss
Skin Reboot has been a staple for me for several years now. It's kept my skin amazingly nourished as I age and feels like a second skin.
Thank you for sharing your great results! We are so happy to hear that SKIN REBOOT has played a part in your skin happiness!!!
Love this product
I love this moisturizer. It is light and leaves my skin feeling fresh. Wonderful product!
My Go-To Lotion
I have very sensitive skin and this moisturizer is the best solution for every skin concern of mine. Your skin will immediately feel soft and nourished by all the nutrients found in the ingredients. Perfect for traveling because it helps as a primer, moisturizer and night lotion. Worth every penny.
All in one perfect moisturizer
I have used Geri's skin care products as soon as she started developing them. I have always loved every single one, and this moisturizer is no exception. It smooths on my face easily and I never feel that dryness associated with other facial moisturizers. It's truly amazing!
I'm addicted
This is my go-to daily moisturizer. I love that way it feels and looks on a no make up day or how it wears under make up. It hydrates and restores the color and balance in my skin. I have sensitive skin and many products don't work for me. This one is a keeper!