Regular price
$22.00 USD
Sale price
$16.00 USD
Unit price
per
Sale
Sold out
The ONLY brush that It does it all!
Fingertip Control
Multiple Application Areas
Effortless Blending with precision
Vegan/Cruelty Free Designed by Founder Geri for effortless application
Use with any liquid, cream or powder formula. 
The tip works perfectly for foundation, concealer, blush  and eyeshadow blending, as well as contour with GERI G Seamless Foundation.
Once the brush comes in contact with a cream it is "conditioned" instantly creating a wet to dry application with no mixing involved.
Designed after luxury Japanese brushes but without the animal hair and cost.
How To Use:
Apply Foundation-Contour directly on to the flat side of the M brush and buff and glide into the skin.  Allow the M Brush to work over every curve and contour of the face to allow for natural, invisible coverage.
Apply Concealer to the tip of the M Brush and allow the tip to melt your concealer into the skin and use the curve of the brush to get into the inside corners.  Follow with your finger tips to gently tap product into the skin to soften any lines.
Apply Bronzer-Blush with the flat side of the brush and follow with the tall back side for blending.  Concentrate on the contours with less product and build up intensity depending on the day or night application.
Apply Eyeshadow to the flat side of your M brush.  This will create a great neutral base alone or to build color intensity with.  The tip of the M Brush will deposit the color into the desired areas i.e. crease and TURN the brush to effortlessly blend the brush into the crease, fanning it out back and forth for precision contouring in one step.
Share
View full details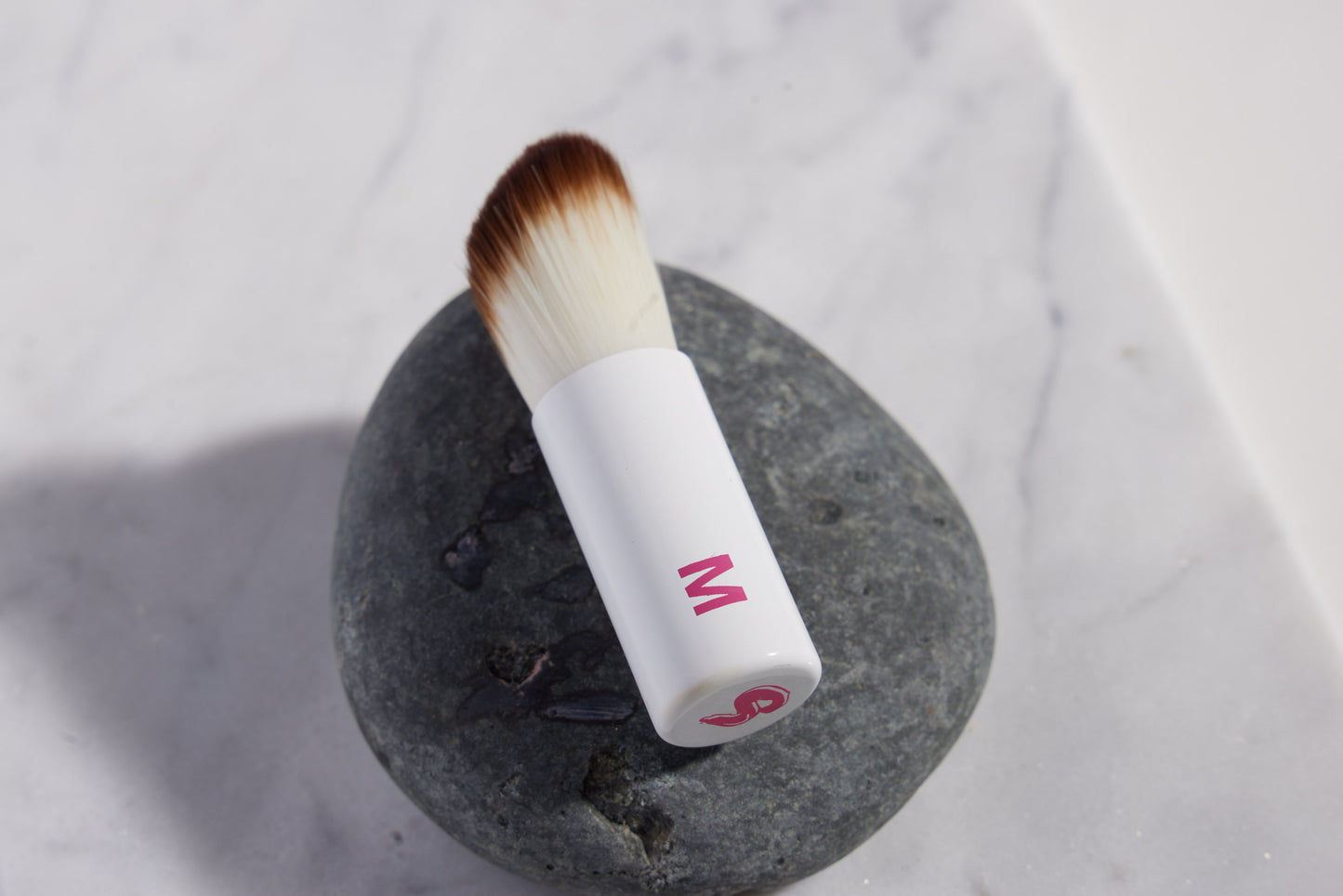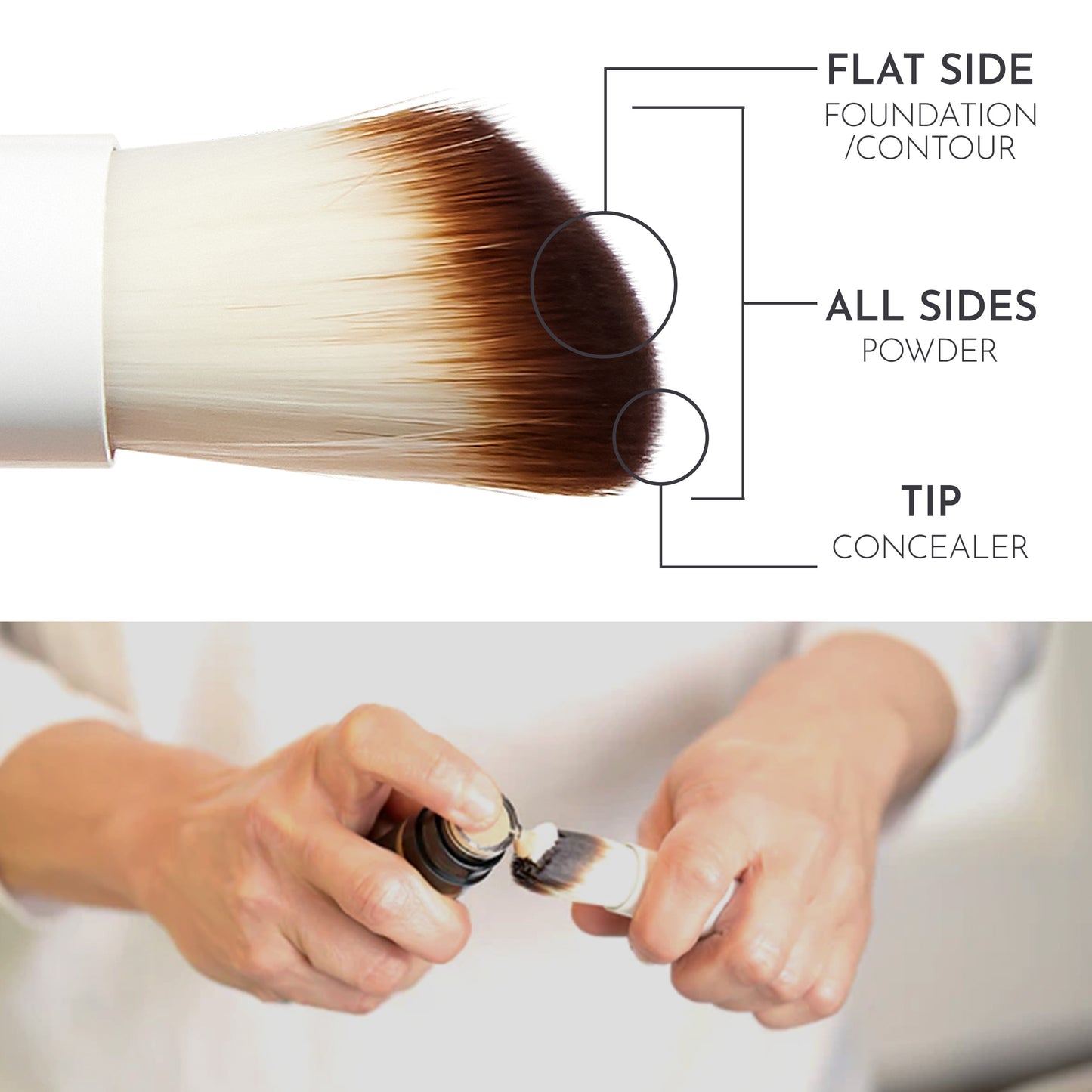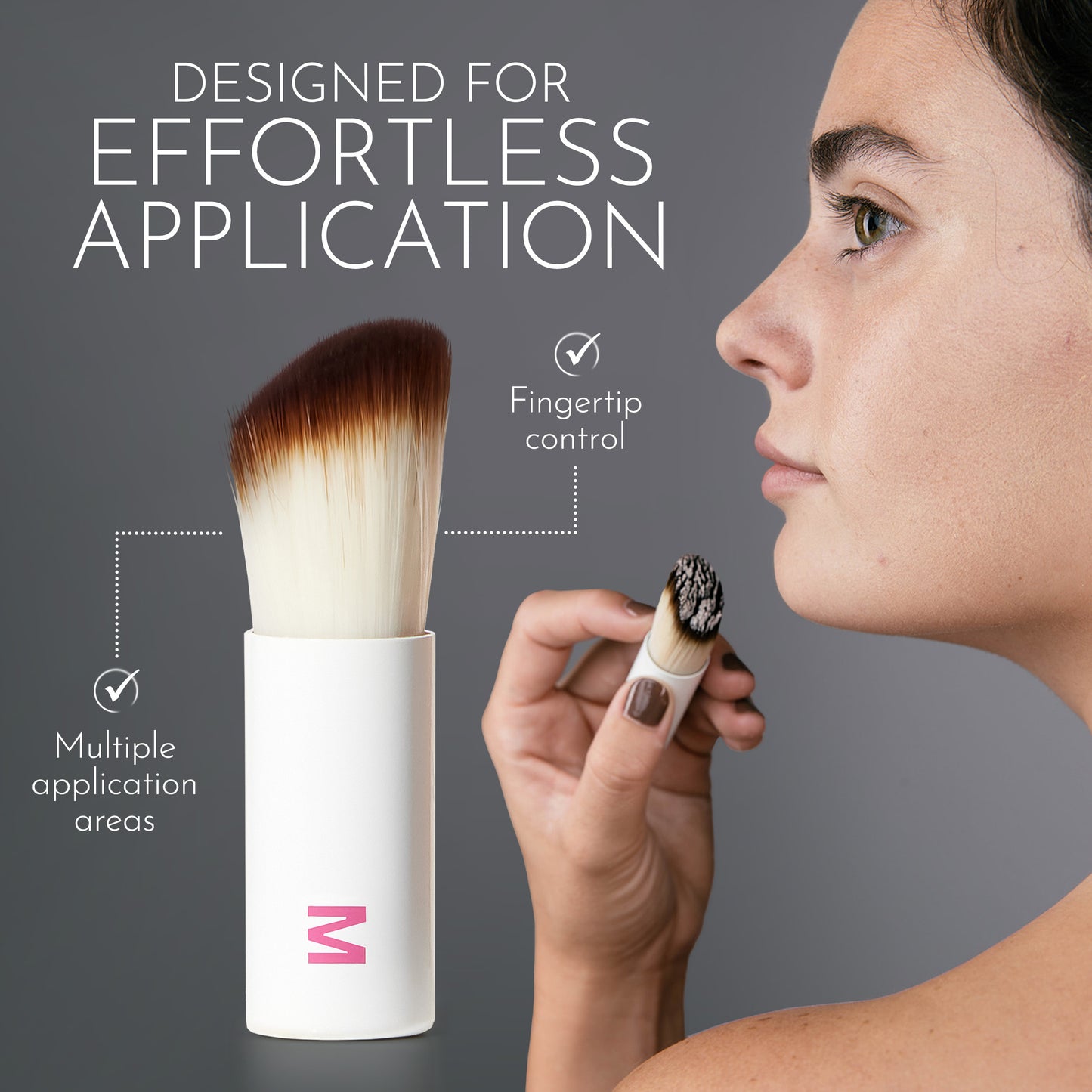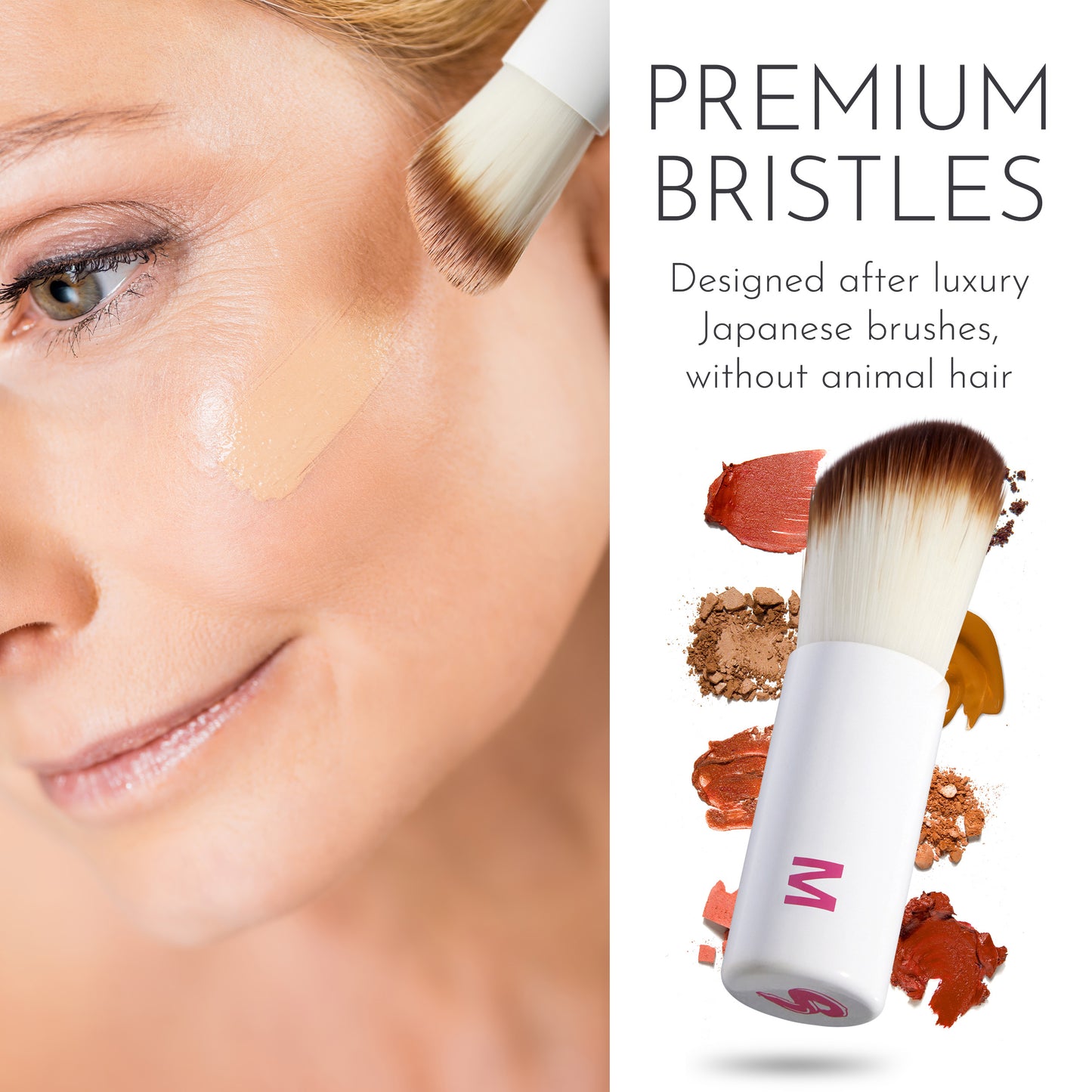 Collapsible content
Botanical Heros

after skin reboot moisturizer-primer, apply seamless foundation directly to the center of the brush and blend outward using the Mini Master Brush

Gently but and stipple into the skin to create invisible coverage.

Apply concealer and use the "M" Brush to glide in the small areas of the face- under eyes, nose and eyelids.
Buy with Prime

"Buy with Prime" is a program that allows you to buy products on gerigbeauty.com while using your Amazon Prime membership to access free two-day shipping. You can learn more by clicking here.
Great brush
I love this brush. It lasts close to a year. Then I order a new one . I use it for foundation, concealer, for eye shadow and blush. Like the size of it. Feels good on the face. Very versatile. It is by far my favorite brush. When traveling, does not take up much room in my case. Easy to clean. Good addition to the make-up bag.
Saves me time and money!
The little Master Brush is just that. I can't believe how different it is. It gets a wet/dry finish for all my products, especially my blush. I bend it in the middle sometimes to create a fan brush to apply eyeshadow right in the crease and it's crazy how it works.
If your someone who wants quick and easy and doesn't want to use or invest in a lot of makeup brushes. This brush lives up to it's name!
Best Brush EVER!!!
To my surprise this little brush makes my makeup look flawless and effortless everyday! I use it to apply my foundation, concealer, contour (with GERI G warm seamless foundation) blush and eyeshadow. I have a second one just to buff and finish when I'm done.
It cleans in seconds with just soap and water and I've had it forever and it still looks new. You need to clean it everyday to keep it clean, which is great because I never breakout anymore form using dirty brushes. I threw all my brushes away after using the M Brush.. They just look dirty and I don't really need them now that I have my M Brush..
Thanks, GERI G. for making a brush that works for me and keeps my skin clear!