Regular price
$159.00 USD
Regular price
$177.00 USD
Sale price
$159.00 USD
Unit price
per
Sale
Sold out
GERI G®'s Essential 'Daily' Wellness System contains the following:
essential daily greens is certified organic by QAI  contains over 100 elements needed on a daily basis. Rich in amino acids, vitamins, minerals, collagen that all help the body's natural healers.
Contains All Organic Kamut® Wheatgrass, Barley Grass, Spiraling, Chlorella, Digestive Enzymes, Lemon, Stevia
essential muscle renew helps restore and renew muscle strength. It also helps in the assimilation of calcium and vitamin D, which contribute to preventing preventing muscle loss caused by sedentary lifestyle, ailments, age and injury
Contains myHMB®, Vitamin D, Chromium and Prohydrolase®
Absorbable protein, fiber, and fats that does not raise insulin levels, keeps you full and satisfied without feeling bloated or Casey like most plant based protein powders.
Contains plant-based protein (18g), fiber(7 g), rice bran solubles, and only 3 grams of sugar from organic carrot.
How To Incorporate the 'essentials' into your day.
1. Start your day with essential daily greens on an empty stomach.  Wait 15 mins minimum before eating or drinking after the greens.
2. Mid Day lunch, snack or maybe your dinner.  Enjoy essential daily meal replacement with a non dairy milk is preferred.  Add essential muscle renew  for added protein absorption. **Add more liquid as desired for consistency preference.
3. Before exercise or anytime of the day a dd essential muscle renew  to any drink or food to maximum muscle tissue health and lean muscle development with or without exercise. Natural fiber is added to help create a sense of fullness as well. myHMB®, vitamin D, calcium, Prohydralase®, and chronium picolinate all compliment each other to encourage healthier skeletal muscle development and help to reduce sugar cravings.  Geri recommends an easy to digest pea protein milk
Share
View full details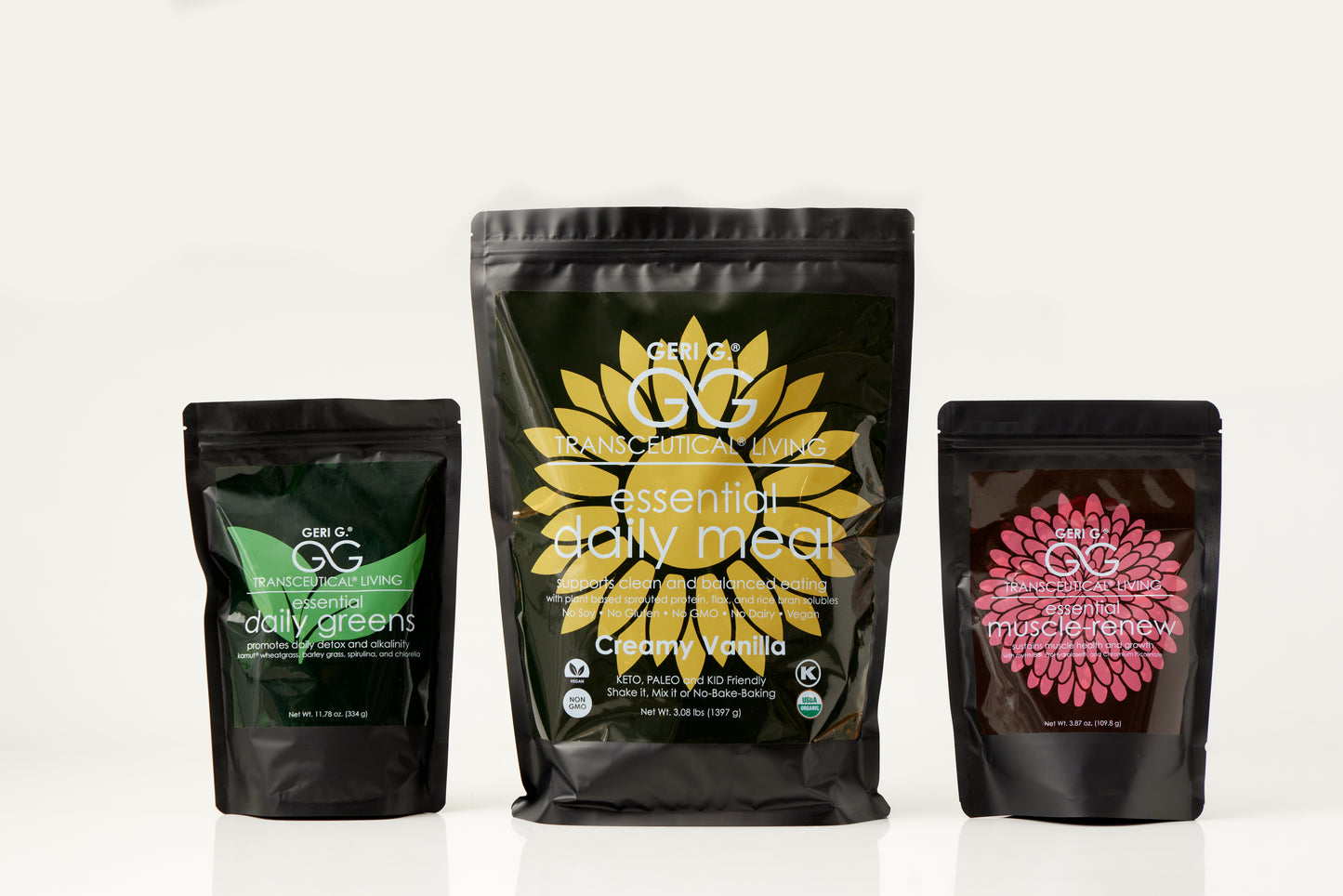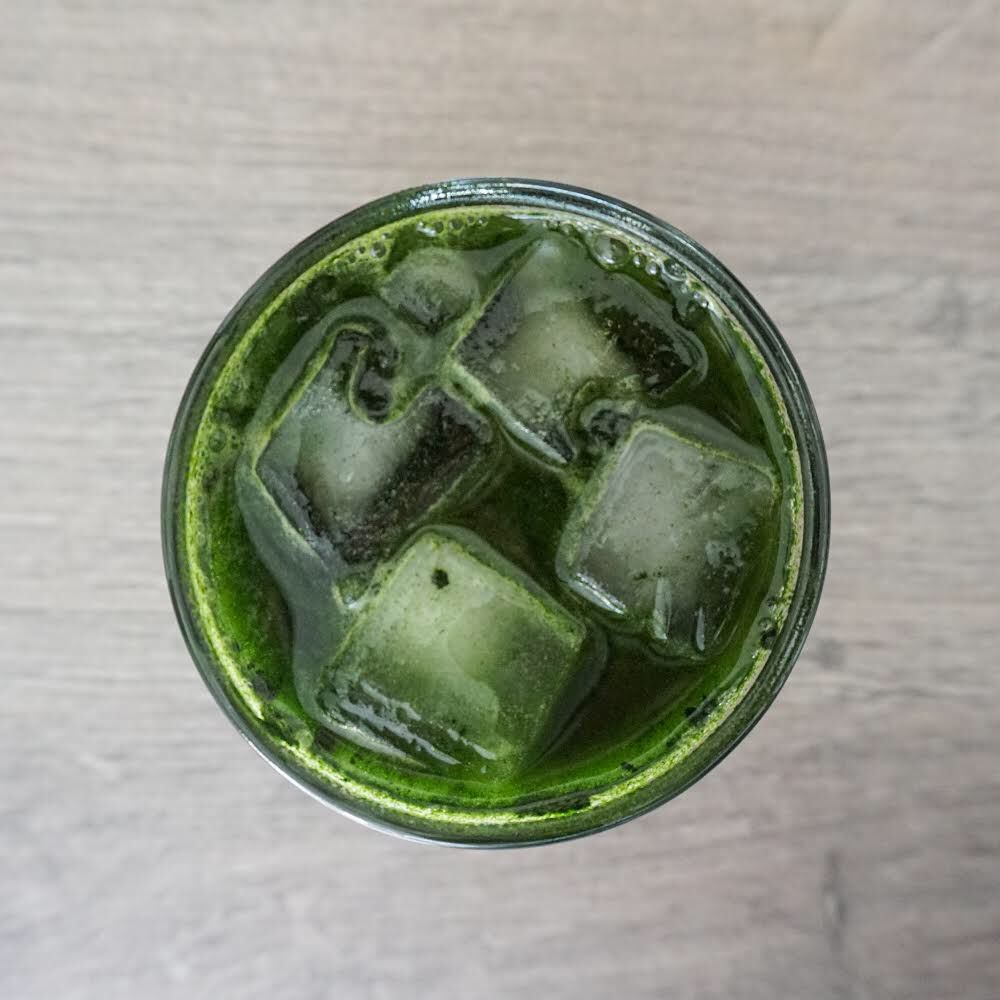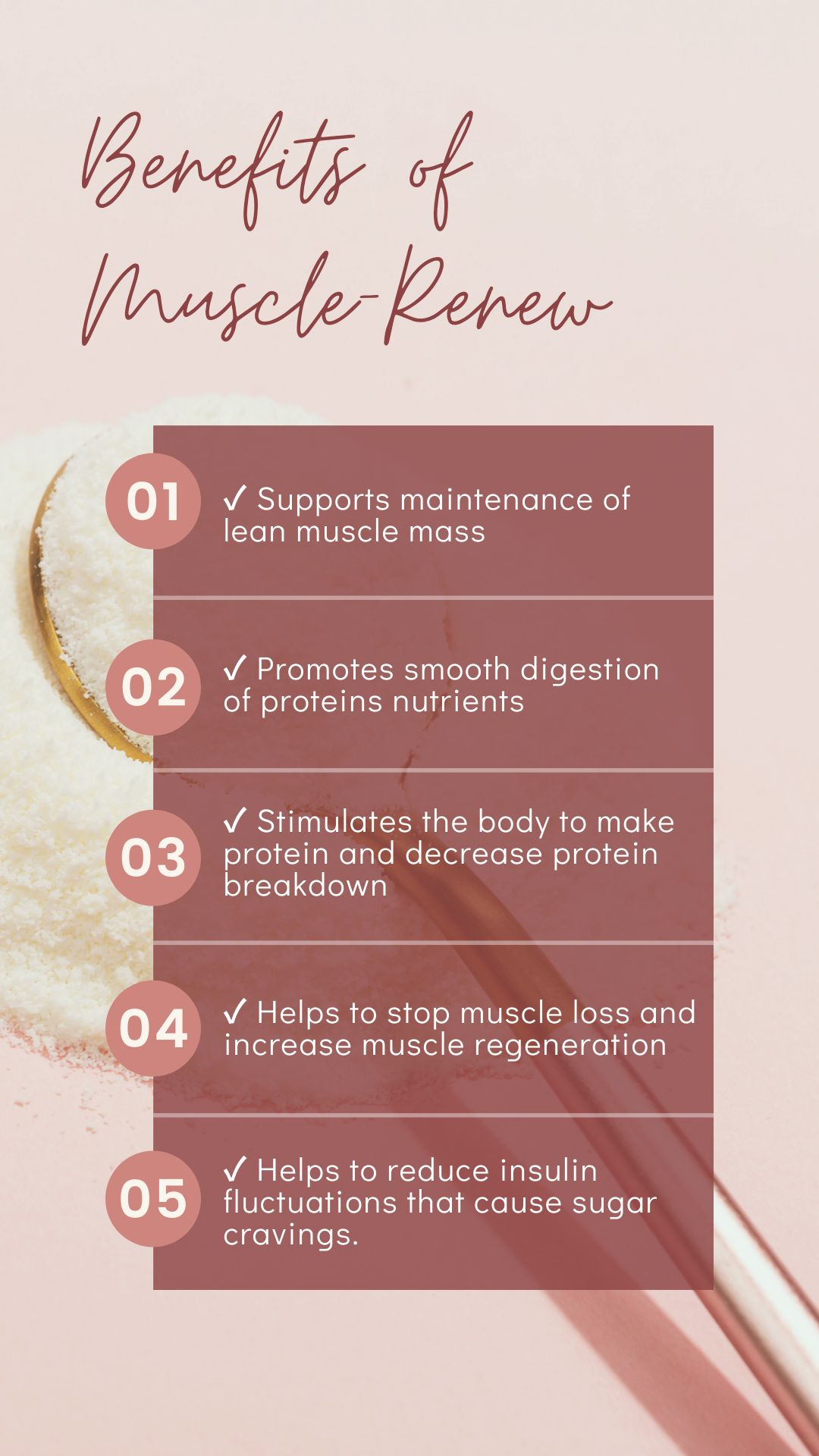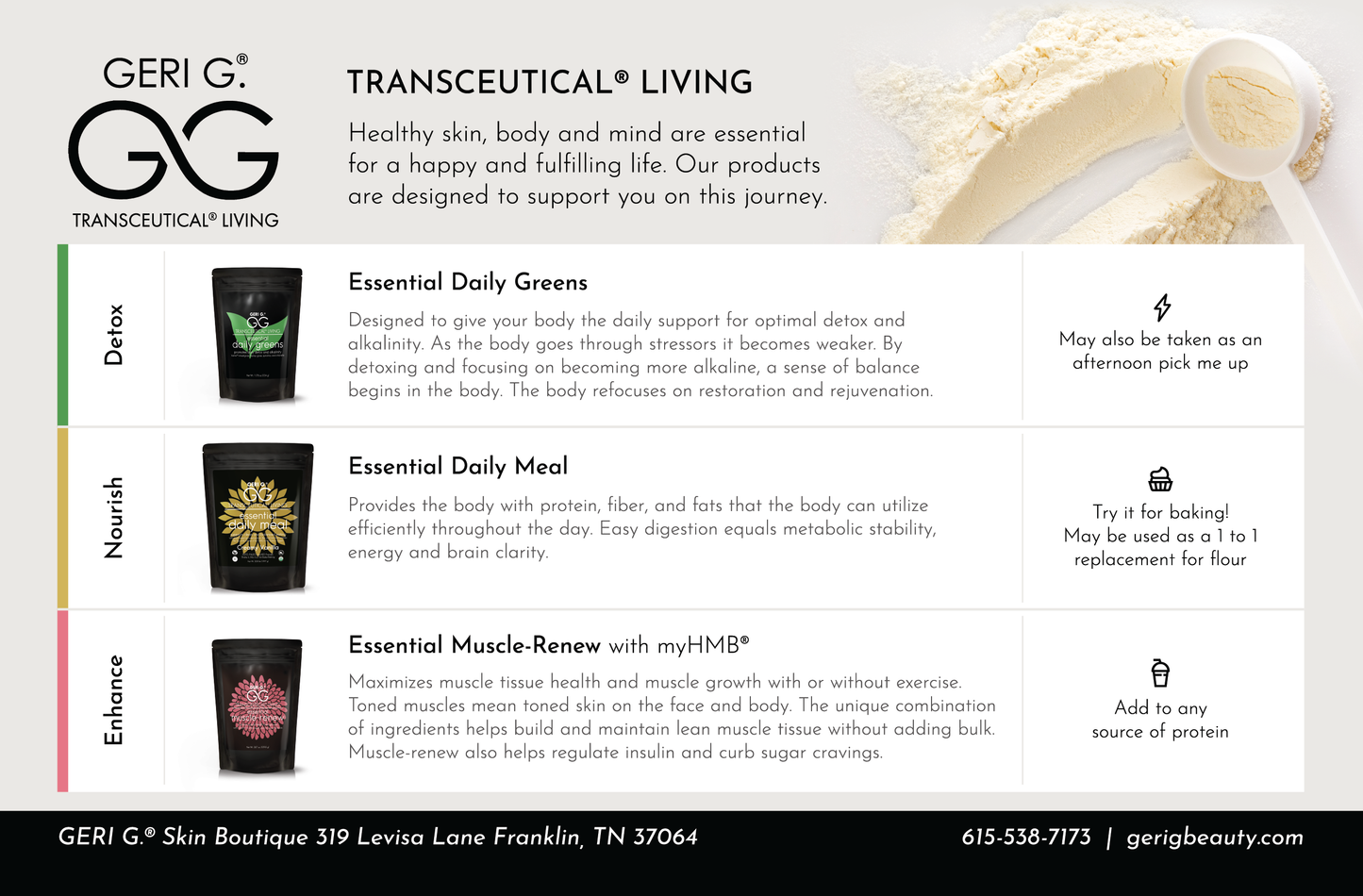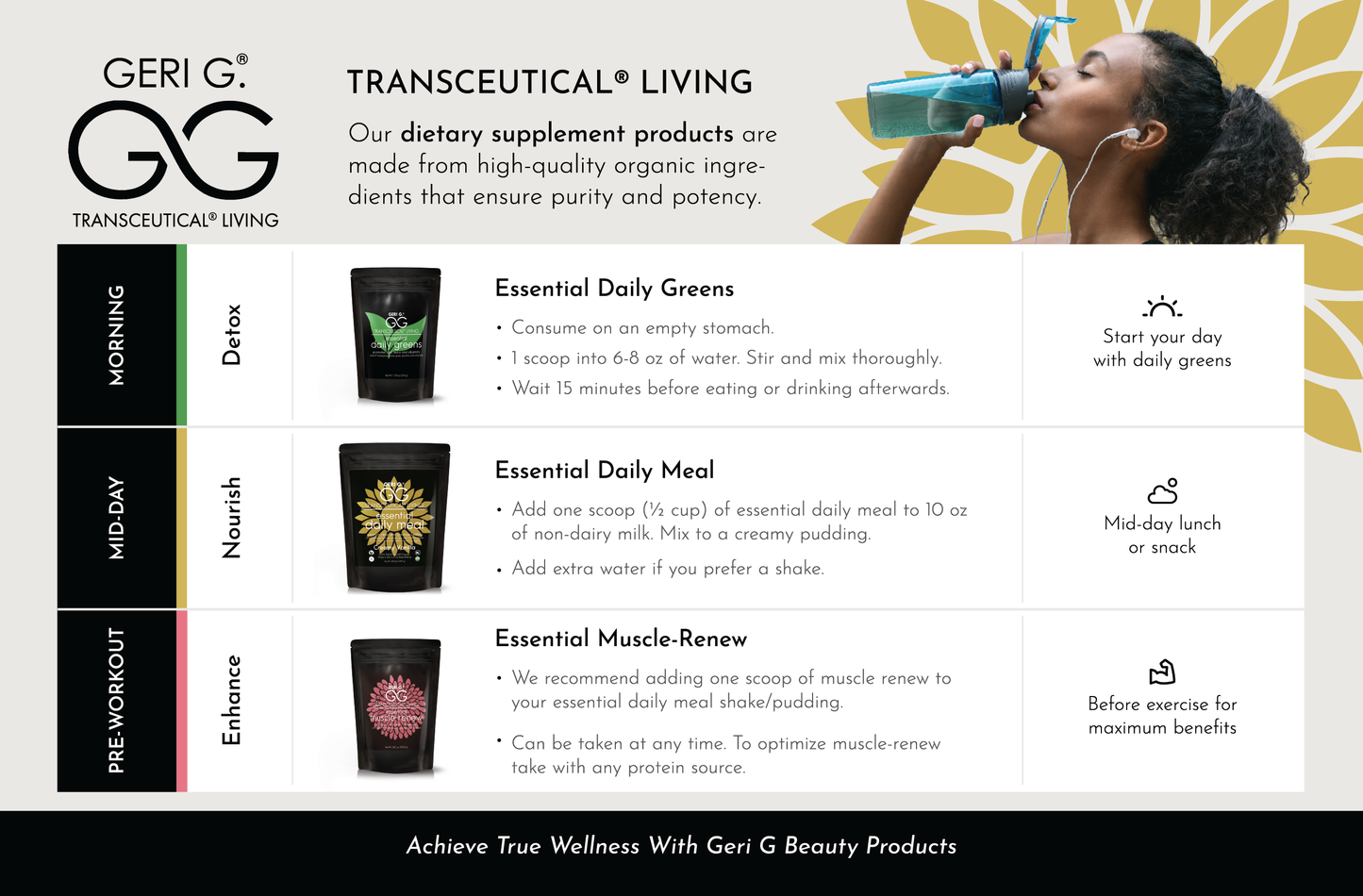 Collapsible content
Botanical Heros

Flaxseed

Loaded With Essential Omega Fatty Acids & Fiber, This Little Seed Is A Powerhouse

Legumes

By Sprouting Legumes & Seeds, It Helps To Enhance The Digestion Of Nutrients and Protiens By The Body

Rice Plant

Naturally contains Vitamin B that is known for new cell growth and naturally helps to control oil production.

Vitamin E

Natural moisturizer, free radical scavenger (antioxidant), skin smoother.

Spirulina

Helps to naturally supply the body with easy digestable nutrients for supporting all organs and the blood.

Chlorella

Completely natural supergreen that oxygenates our red blood cells

Rice Plant

Naturally contains Vitamin B that is known for new cell growth and naturally helps to control oil production.

Kamut Wheatgrass

Supergreens that stabilise the skin barrier, helps protect you from the sun & can help heal skin blemishes

Barley

Rich in plant based protein, fiber, vitamins and minerals. It contains natural forms of iron, manganese, selenium, folate.

myHMB

Increases lean muscle mass while decreasing muscle loss. Helps with muscle recovery from illness, injury and training.

Prohydrolase

Protein enzyme made from bacillius sbtilis and ananas comosus. Helps to break down proteins for better utilization by the body

Chromium Picolinate

Essential mineral that supports normal blood sugar levels and reduces carbohydrates.

Vitamin D

Strengthens bones and muscle, boosts immunity, increases mood and when combined with HMB helps with weight loss and improved muscle tone.
Buy with Prime

"Buy with Prime" is a program that allows you to buy products on gerigbeauty.com while using your Amazon Prime membership to access free two-day shipping. You can learn more by clicking here.