Regular price
$89.00 USD
Sale price
$89.00 USD
Unit price
per
Sale
Sold out
The ONE MEAL A DAY that can Transform your body and skin from within.
What it does:
Provides the body with protein, fiber, protein and fats that the body can utilize efficiently throughout the day. Easy digestion equals metabolic stability, proper digestion, fluid energy and brain clarity.
What's in it?
The ORGANIC Essential Daily Meal is a proprietary blend of organic plant-based proteins, flax fiber, rice bran solubles, Omega's, and 11 sprouted legumes, daily vitamins and minerals needed for a complete vegan meal!
It makes you and your body satisfied all day long. It helps to stop sugar cravings, hunger and snacking due to lack of metabolic nutrients and it is a dense macro meal but lower in calories for maximum weight management without starvation.
What's in it?
18g of premium vegan protein
6g of dietary fiber
3g of sugar from organic carrots(retinol)
11g fuel carbohydrates
7g of fat per serving.
No added sugar, No soy, No gluten, No dairy, No whey, No egg
Rice Protein
This plant based protein is not carbohydrate-heavy as you might expect but is a soluble form of protein. Rice protein contains iron, Vitamin C and Calcium as well as certain vitamins and amino acids. On top of that, it also provides the body with antioxidants with protecting cells from free radicals and promote health within.
Sunflower Protein
You can see the goodness of Sunflower protein outside your body because of its high Zinc content. Zinc Zinc is an essential mineral for skin health as it reduces inflammation and the appearance of acne and acne scars. Within the body, Sunflower Protein is high in Vitamin E, a fat-soluble vitamin that again, works as an antioxidant. These antioxidants protect your cells from the inside like sunscreen. It also protects against high cholesterol and heart disease.
Rice Bran Solubles Protein, Fats
Rice bran Solubles are the most potent part of rice extracted and cold-pressed. Made from water and fat-soluble portions of organic brown rice bran and rich in Vitamin E, this nutrient-dense superfood helps promote detoxification and healthy skin, connective tissue, and muscle function.
Flax Protein/Fiber
This plant based fat is an excellent source of protein that produces almost no waste because it is so rich in usable nutrients. Flax maintains strong, beautiful hair and naturally glowing skin by reducing inflammation and it also contains lignans which reduce the risk of cancer. Flax is also full of fiber which is crucial for a balanced digestive system and thanks to filling fiber and fats, you can feel full and satisfied all day long.
11 Sprouted Legumes-Protein
"Sprouted" in this context means that the legumes have been soaked in water to release their digestive enzymes. This is crucial for human consumption because the body cannot break down these foods efficiently if they have not been sprouted first.
Mixed or blended with 8 ounces of a cold, non-dairy product and shaken or stirred until there are no lumps.
- satisfied feeling of fullness without boating or gas
- supports skin strength and elasticity
- helps improves sleep and relaxation
- helps keep a feeling of satiety 
- provides organic protein, natural whole fiber and fats.
**These statements have not been evaluated by the Food and Drug Administration. This product is not intended to diagnose, treat, cure or prevent any disease.
How To Incorporate the 'essentials' into your day.
1. Start your day with essential daily greens on an empty stomach.  Wait 15 mins minimum before eating or drinking after the greens.
2. Mid Day lunch, snack or maybe your dinner.  Enjoy essential daily meal replacement with a non dairy milk is preferred.  Add essential muscle renew  for added protein absorption. **Add more liquid as desired for consistency preference.
3. Before exercise or anytime of the day a dd essential muscle renew  to any drink or food to maximum muscle tissue health and lean muscle development with or without exercise. Natural fiber is added to help create a sense of fullness as well. myHMB®, vitamin D, calcium, Prohydralase®, and chronium picolinate all compliment each other to encourage healthier skeletal muscle development and help to reduce sugar cravings.  Geri recommends an easy to digest pea protein milk
Share
View full details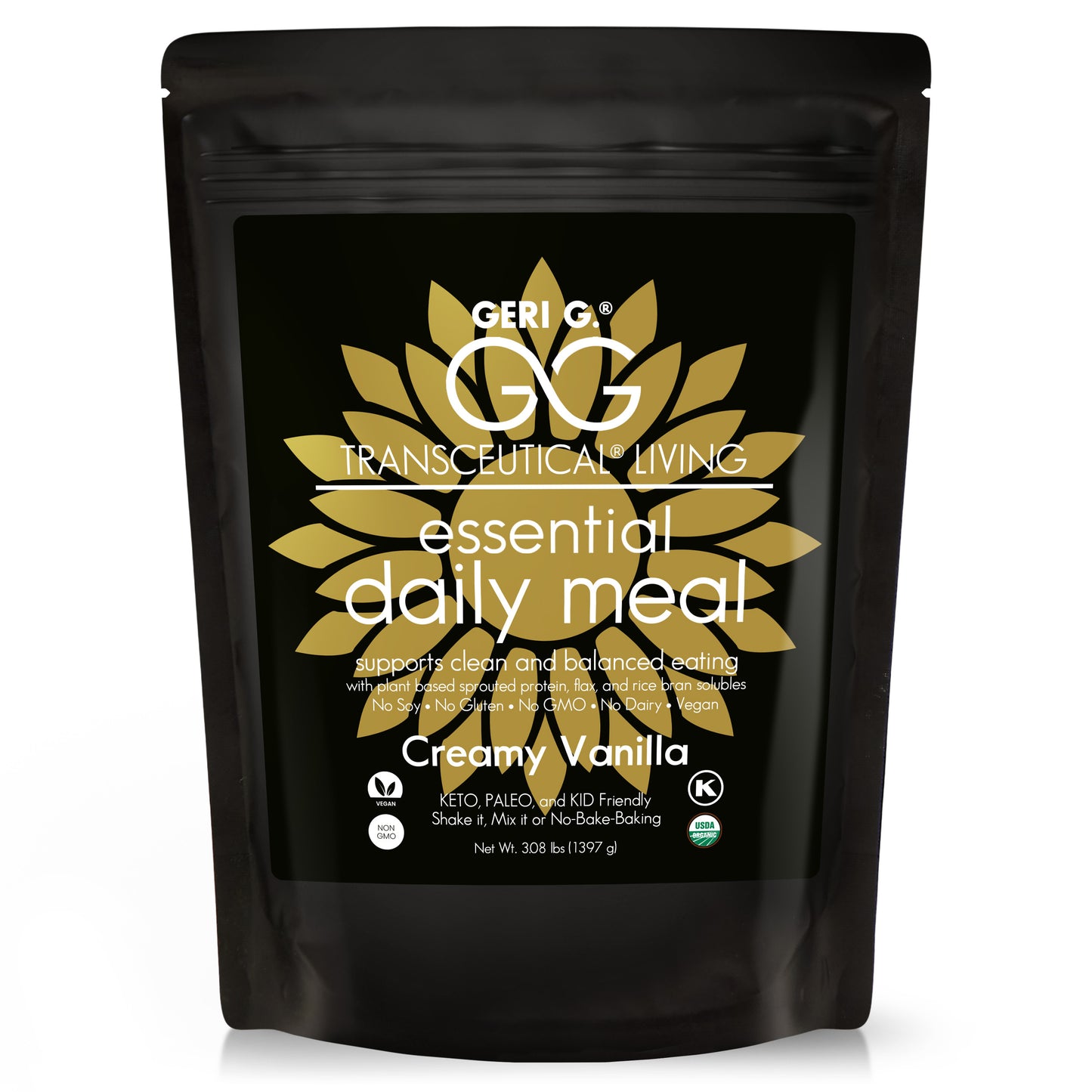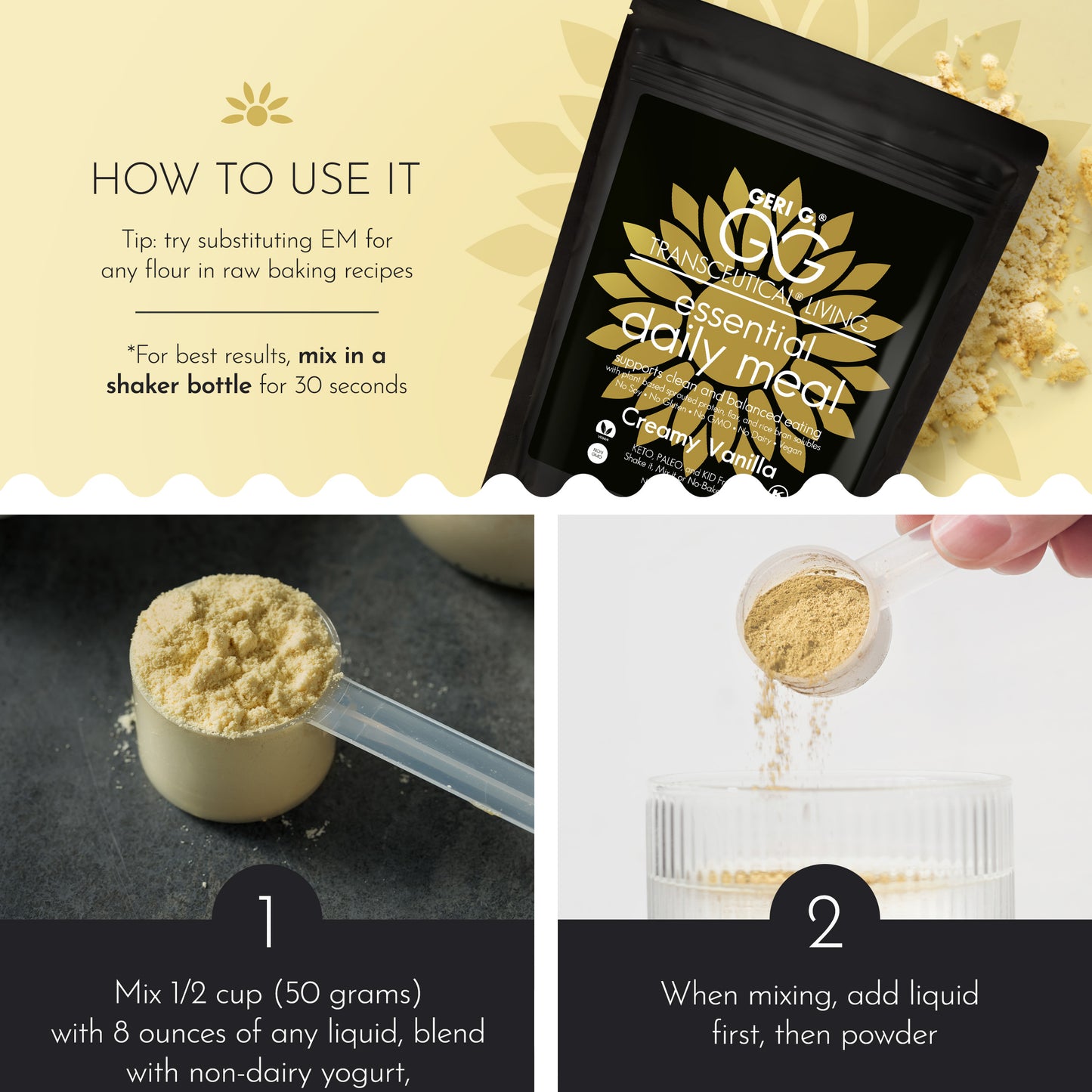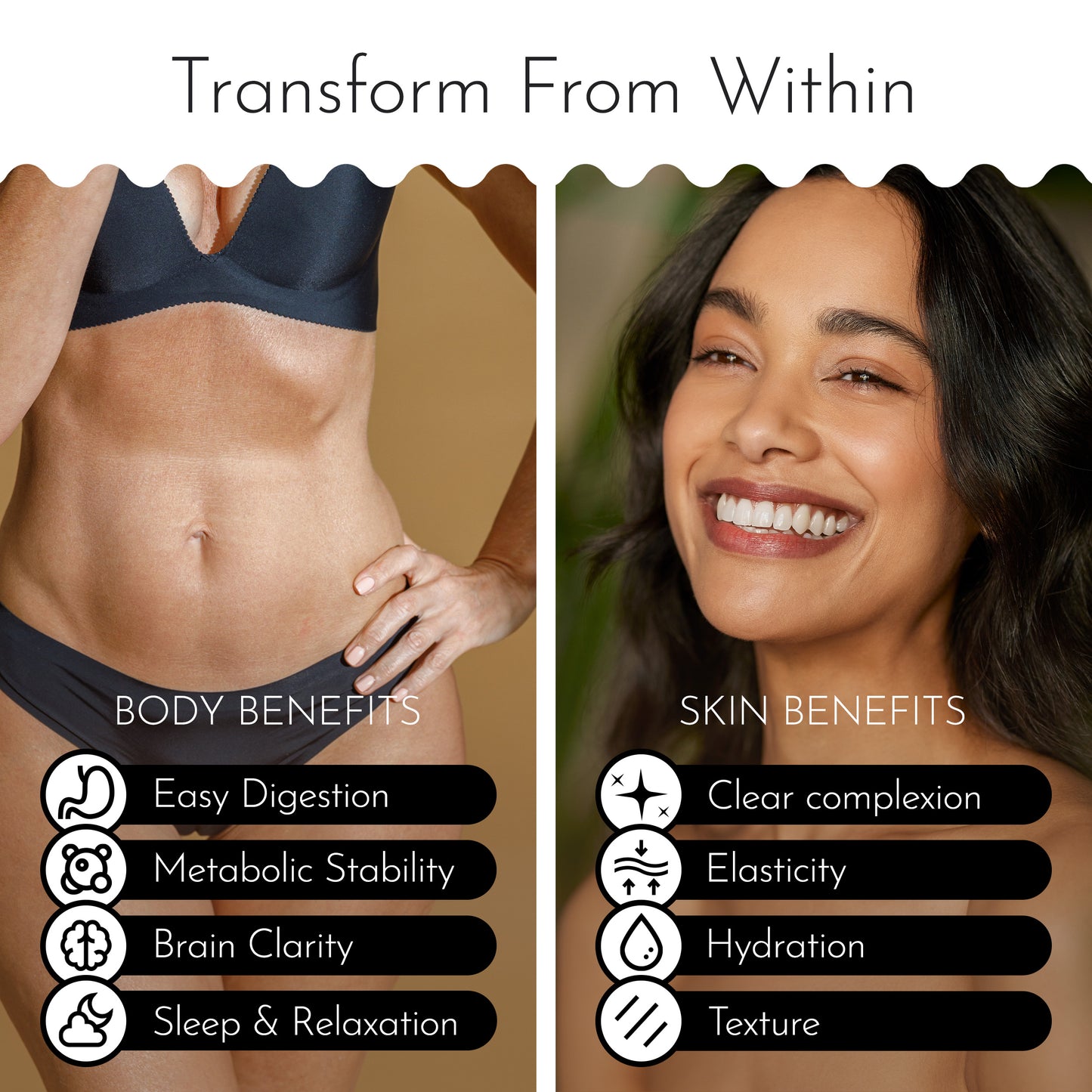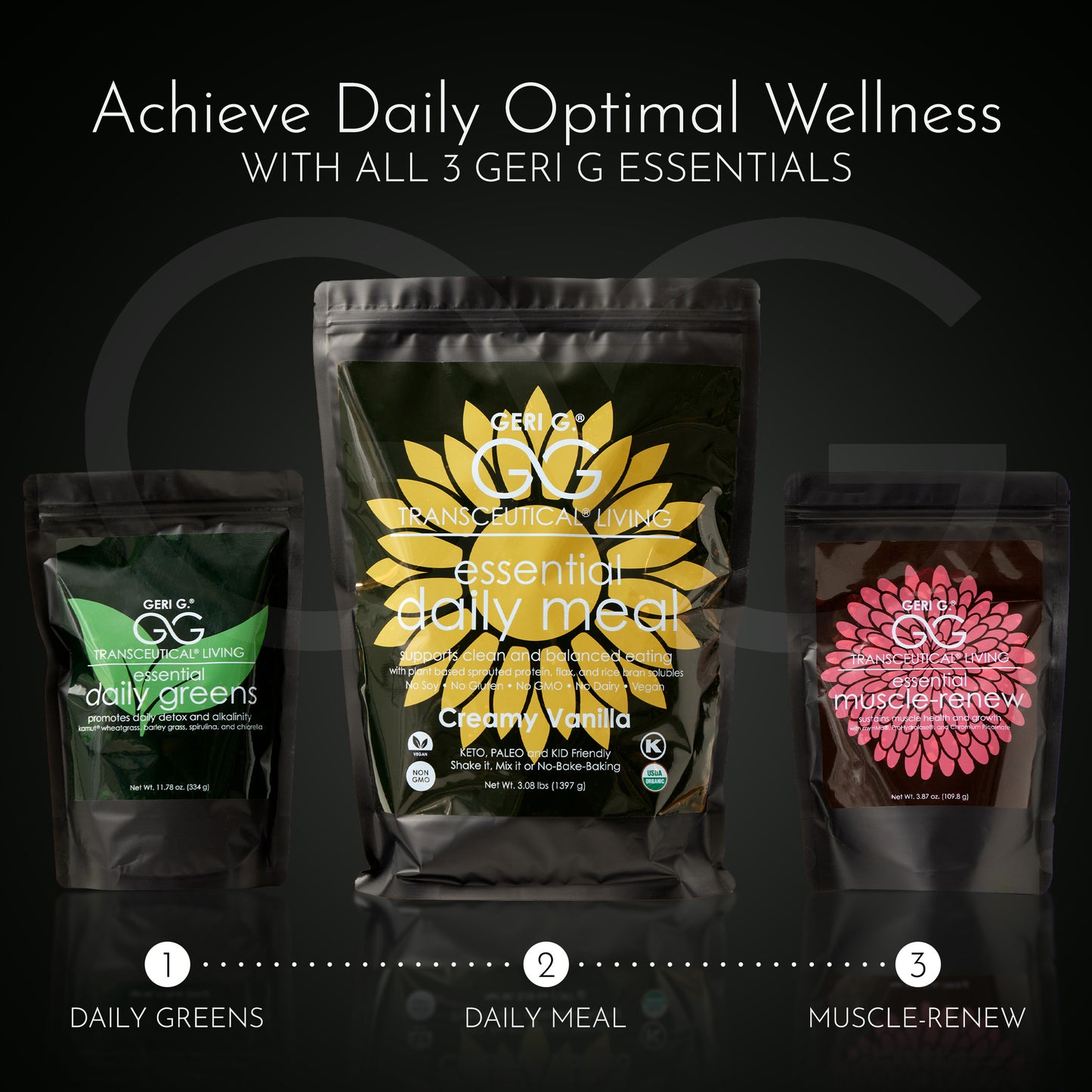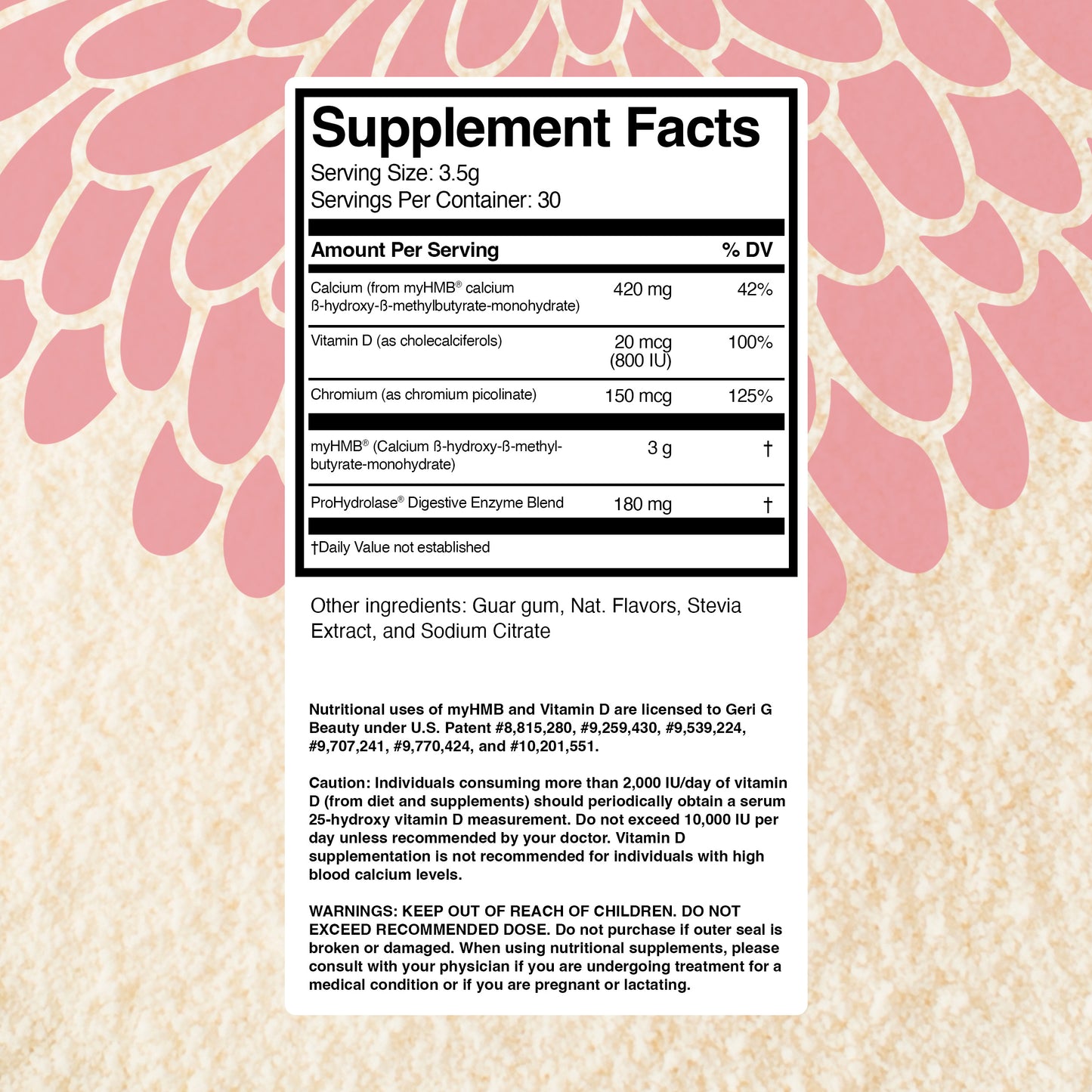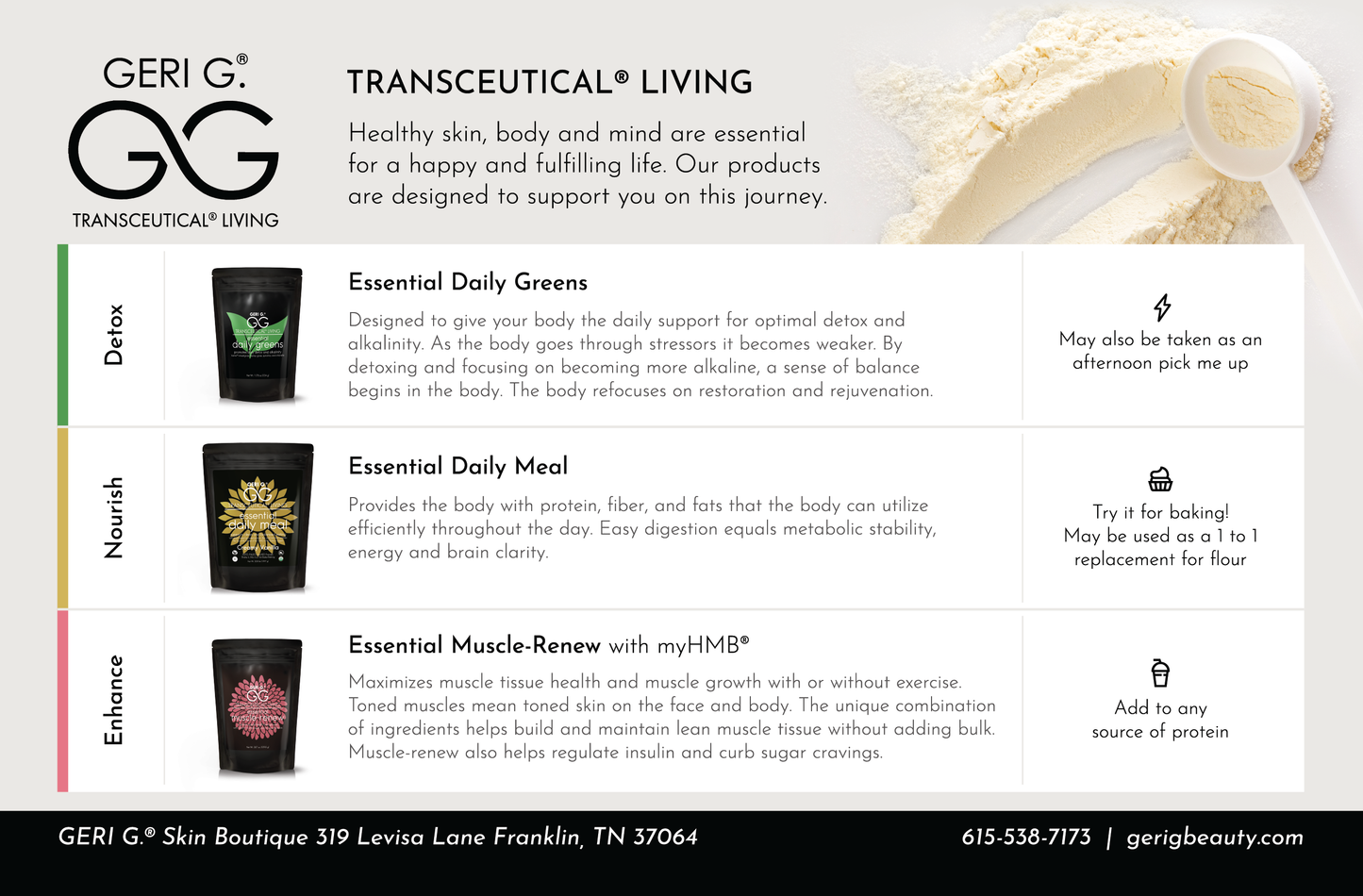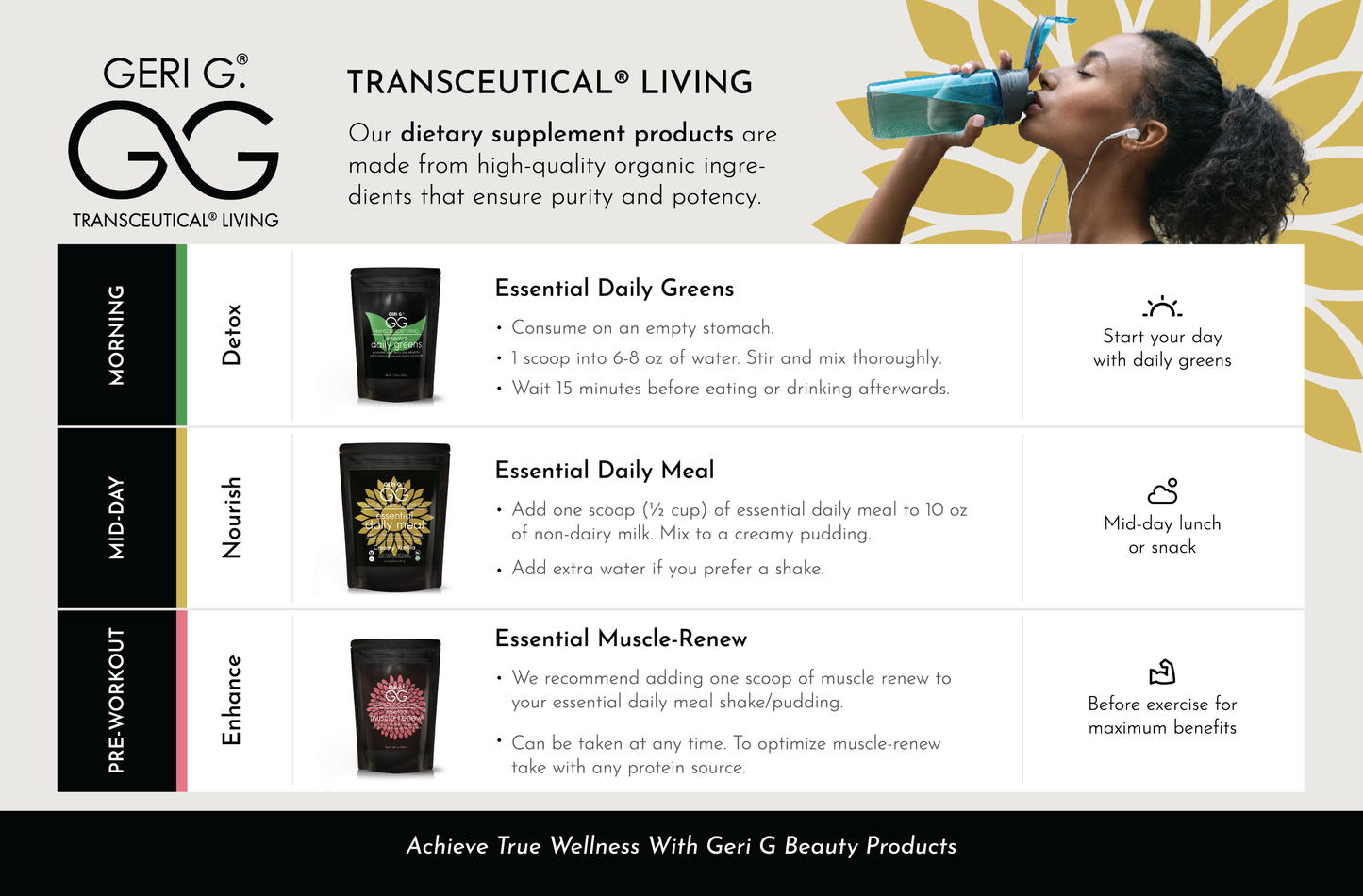 Collapsible content
Botanical Heros

Flaxseed

Loaded With Essential Omega Fatty Acids & Fiber, This Little Seed Is A Powerhouse

Legumes

By Sprouting Legumes & Seeds, It Helps To Enhance The Digestion Of Nutrients and Protiens By The Body

Rice Plant

Naturally contains Vitamin B that is known for new cell growth and naturally helps to control oil production.

Vitamin E

Natural moisturizer, free radical scavenger (antioxidant), skin smoother.
Buy with Prime

"Buy with Prime" is a program that allows you to buy products on gerigbeauty.com while using your Amazon Prime membership to access free two-day shipping. You can learn more by clicking here.
Essential Daily Meal
This is a great product. It provides 18 g of protein per serving. It tastes delicious, easy to mix, and is a wonderful start to my day!
I love it!
Game Changer
The Essential Daily Meal is so delicious, I love the taste, convenience and how it truly does replace a meal. It keeps me feeling full longer. It's better than any other product I've tried. That, along with the Essential Daily Greens and the Essential Muscle-Renew all fit perfectly into my lifestyle, fitness and diet routine.
Daily Meal is part of my day now!
The Essential Daily Meal has made my mornings so much easier. Between running to and from class, meetings, studying, and not being a morning person, I rarely take the extra time in the morning to fix myself a healthy meal that will fill me up and keep my full until lunch. The Daily Meal has been a savior! I mix it with my favorite oat milk and it tastes delicious and saves me so much time in the morning without having to worry about not giving mu body the nourishment it needs. As someone that's suffered from acne my whole life, geri taught me how essential what I put in my body is for my inside health. The Essential Daily Meal is a must for keeping myself balanced and my breakouts managed!